A lot is being heard lately about a new engineering material for 3D printing called ASA, and we aren't really surprised.
This new material has recently been created as a 'substitute for ABS', and, truth be told, it's sweeping away.
But, what makes it so special?
In this post, we're going to try to cover all the points you need to know about ASA material so that you know exactly when you need it and what you need it for.
What is the ASA 3D printing filament?
The ASA filament is an amorphous thermoplastic polymer whose acronym stands for 'Acrylonitrile Styrene Acrylate' and is encompassed within the so-called 'engineering materials', within 3D printing.
As we've already mentioned, it is intended as a substitute for ABS, against which it has far more advantages than disadvantages. So much so that the automotive industry has been applying it to its products for some time now, because it has an essential advantage over other materials: it does not yellow.
But what is the advantage of using it?
Why and when to use ASA
Well, here is the key point of the question, but before we start to explain why and how to use it, we believe we have to explain the properties of this plastic for 3D printers, since at Bitfab we believe that practice should always be supported by theory. Therefore, the advantages of ASA with respect to other materials such as PETG are:
It's mechanically robust, perfect for applications requiring resistance
Resistant to ultraviolet rays (or U.V.), so it doesn't yellow
Water resistant, for underwater applications or pump junctions
Generates a good finishing of parts without deformations
It has a great dimensional stability, so there is no warping and the parts have good tolerances
It has a great resistance to chemicals and all kinds of chemical treatments.
Better thermal resistance than ABS: it deforms at higher temperatures (up to 95º).
Matte finish surfaces, similar to ABS, that some prefer for their printed pieces.
Lots of advantages, right? A priori, we could say that a disadvantage is that you have to be a little more careful when using it in your 3D printer, you have to have it fine-tuned so to speak, but otherwise, as a material is great.
As you can see, this 3D printer filament is perfect for both industrial and domestic applications of a certain degree of complexity. In this last point I mean, if you are going to print pieces that do not support weight and that are not going to be exposed to the weather (for example, if they are outdoors), we recommend that you use PLA or similar, as it will do the job perfectly.
However, for applications where you are going to have something exposed to the sun for a long time and want it to last without degrading or deforming, this is your material. Some examples could be:
Parts exposed to the elements, which will not suffer from yellowing as with ABS.
Parts exposed to chemical environments.
Submerged parts exposed to strong water currents.
Parts to be replaced made of ABS material.
Parts working at high temperatures (ASA starts to deform at 95º).
As you can see, it's worth investing a little more and giving this material a chance as in the long run you'll appreciate it.
ASA vs ABS: Advantages and disadvantages between the two filaments
All right, from here you can see that many of the advantages of the ASA are also found in ABS, except for a few such as resistance to U.V. rays, which is exclusive to the ASA.
But then, apart from this and perhaps some improved mechanical properties, is there any more? In terms of 3D parts' finishing when it comes to printing them, yes, a huge difference: Warping.
If you don't know what warping is, it consists in the detachment of the parts in the bed because of the thermal expansion of the material. Unless you have a closed printer (and having used ABS) you may have noticed that this is one of the big headaches when printing large parts with ABS.
In addition, there is another factor, which is the same phenomenon as warping but in upper layers, called cracking, which has also been mitigated in this material with respect to ABS.
Both warping and cracking not only affect the printing difficulty and the finishing of the parts, but also intervene very negatively in the resistance of the parts. The pieces that present cracking, although this one is not visible, have mechanical properties much inferior to pieces in which the layers are completely welded.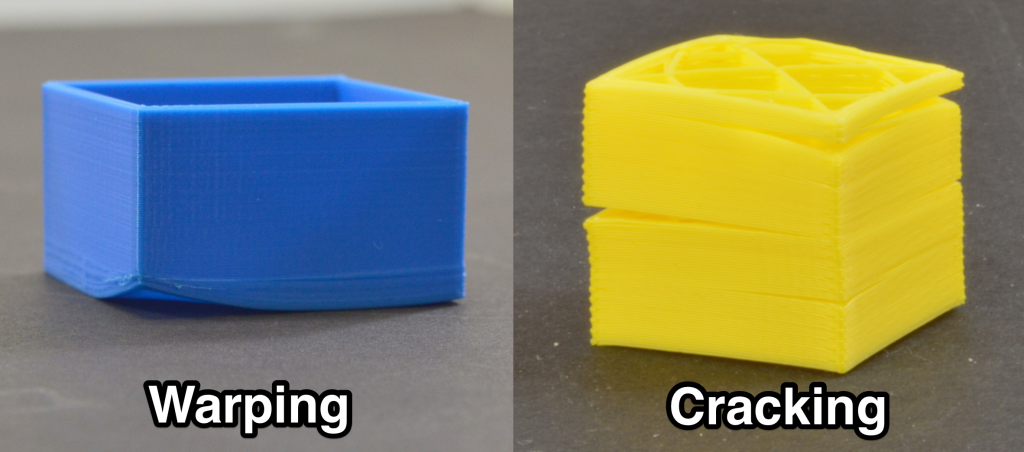 However, despite all these tips, this does not mean that printing ASA is as easy as printing PLA: it requires a great technique and so we will give you some tips to carry it out, although if you don't have a 3D printer or you don't want to complicate your life, you know that Bitfab will be happy to print it for you.
Do you want us to compare ASA vs ABS? In addition to the ease of printing, which determines the finish and strength of printed parts, ASA has properties that match or improve those of ABS:
Similar mechanical properties.
ASA is UV resistant, ABS is not.
ASA has higher temperature resistance than ABS (81ºC vs 95ºC).
Both produce parts with a matte finish
Tips to print with ASA filament
Try to make sure the first layer is correct
As we've said, ASA has less warping than ABS, but that doesn't mean you shouldn't be careful with it. To do this, try to have the 3D printer calibrated so that it makes the first layer properly. This consists of two fundamental points: Level the bed correctly, and level the distance from the hotend to the bed correctly.
Print with a hot bed and improve adhesion to it
If you don't have a hot bed, you can forget about printing with ASA. This is because it needs a lot of heat to avoid cracking due to thermal deformation of the material (almost as much as ABS), so you will need a hot bed at 80[ºC]-100[ºC] for this not to happen.
On the other hand, try to improve the adhesion to the bed by using stick glue, some kind of product composed of plastic compound, masking tape, or our favorite, 3D printer lacquer. Also, always try to make sure that the pieces have some 'Brim' with a thickness between 8 and 15 layers, so that there are no surprises afterwards.
Properly calibrate temperatures
This is key and depends a lot on your printer. ASA has a melting temperature of 250[ºC] and 260[ºC], so you have to have the hotend thermistor well adjusted to such high temperatures (as it could carbonize the Teflon inside the thermal bridge). And keep in mind one thing: it is always better to go from high to low temperatures.
We also wanted to comment at this point that not all printers are going to give so much power (since we are using very high hotend temperatures in addition to the hot bed). If your printer does not have an all metal hotend you probably need a 3D printing service to make them, since the 3D printer will not withstand such high currents.
Watch out for the layer fan
Many printers now have a layer fan, which is configured through our laminator program. In the case of ASA, an excessive cooling of layers will lead to the piece breaking, so we recommend that you deactivate it or put it between 20% and 30% of its capacity.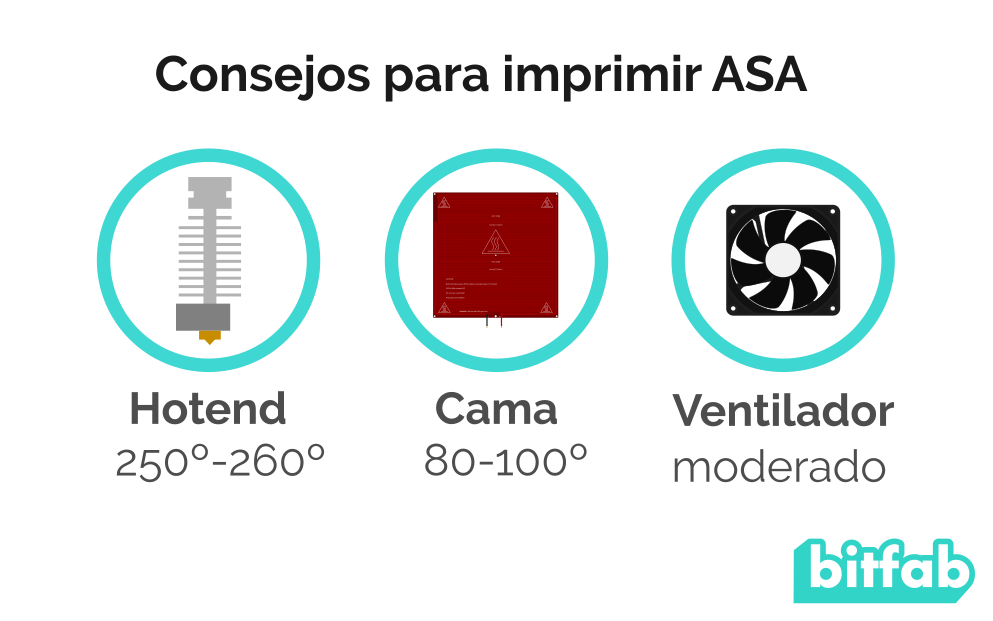 ASA's properties
This is simply a technical section for you to see how the ASA we print here behaves and its properties.
Density: 1.07 [g/cm3]
Tolerance: ±0.05[mm]
Elongation at break: 35%.
Flexural strength: 660 [kg/cm2]
ASA melting temperature: 250-260[ºC]
Maximum printing temperature: 80-90[mm/s]
Solubility in: methylacetone, dichloro-ethylene and cyclohexanone.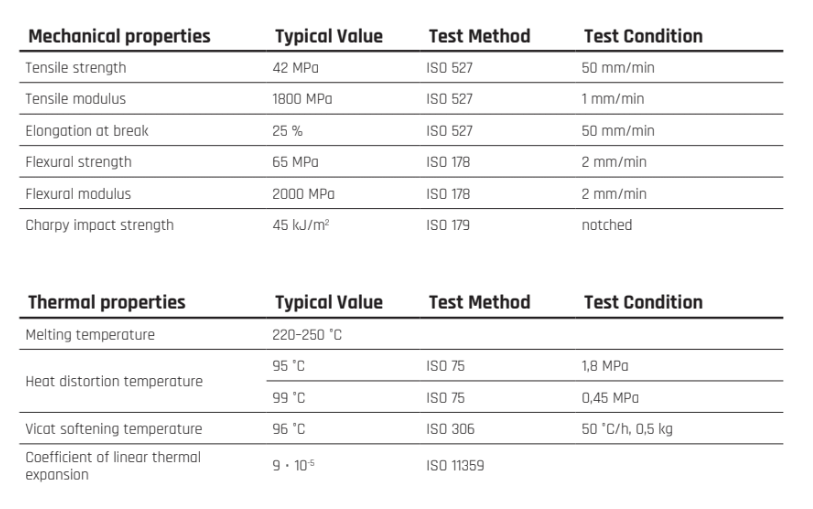 What ASA filament do we print on Bitfab?
The ASA is a new material that is being introduced into the world of 3D FDM printing, so not all filament manufacturers yet offer it in their catalog. We use Fillamentum's black ASA Extrafill, almost always in Traffic Black.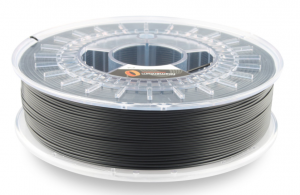 Fillamentum is a European brand of premium filament, well known for its line of Vertigo colors, which have metalized ones to disguise the layers. There are not many more ASA manufacturers in the market today; the only one we have found is Formfutura with its ApolloX range.
What did you think of ASA as a 3D printing filament?
The truth is that we have included ASA in our product catalogue because we have really seen a lot of potential in it.
We hope that we've been able to open your eyes a little with respect to this subject so that you can decide to use it and apply it to the parts you want to use in your prototypes and industrial parts.
If you've already tried it or you've asked us for some part and you want to share your experience with this new 3D filament, below you have the comments box.
And if you want to try it you can ask for a quote right now for your parts in ASA: