AutoCAD is one of the most popular CAD, or computer design, programs of all time.
However, in recent years many programs have emerged to take the throne away from it, proposing alternatives to parametric design in both 3D and 2D.
Do you want to know the best alternatives to Autocad? Then take a seat because this is your article.
Autocad key points
To find out which are the best alternatives to AutoCAD we will first have to look at its key points.
Functionalities
This software, property of the Autodesk brand, is a very complete CAD suite, both 2D and 3D. It has unique features tailored to the most common tasks of architects and engineers such as:
Electrical circuit design
Mapping and topology
Rasterized
Design of ventilation or irrigation systems
Mechanics and robotics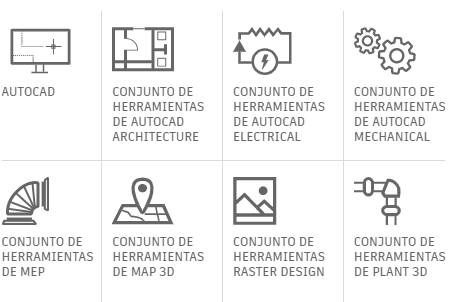 In addition, it is a software designed to be used off-site, so many of its functions are available through its web version so you can work from anywhere.
Price
In terms of cost, AutoCAD is a software that follows the subscription model that can be monthly, annual or triennial. Depending on the subscription chosen, the price varies between €279/month and €168/month, so it is not a cheap software.

Fusion 360 – our favorite
We've told you a lot about Fusion 360, highlighting how and why we consider it the best software to get you started in the world of parametric 3D design. But Fusion doesn't stop there, as it is not only a great program to get started, but also a great professional alternative.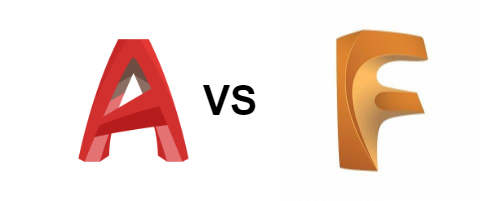 In many cases, you will be able to realize your project using either AutoCAD or Fusion 360, or even both, since both are Autodesk programs that can easily share files. The differences lie in the features and price of both CAD programs.
Functionalities
AutoCAD and Fusion 360 share many features, but there are several that are unique to each. While AutoCAD has many features geared toward professions such as architecture, Fusion 360 is almost exclusively focused on mechanical design, making it a program well suited to engineers.
Some of the main differences are as follows:
Autocad
Fusion 360
General
2D drawing software that works very well on 3D.
Pure 3D with special emphasis on free forms.
Interface
Connects with toolbars, concept menus, dialog boxes and a command line.
It communicates with toolbars, context menus and dialog boxes.
Industry's approach
Integrates with industry-specific tools such as AutoCAD Architectural, Electrical, Civil 3D and Mechanical.
It focuses on industrial design (mechanical engineering).
Modeling
Geometry-based models.
Free-form models.
Work environment
Local or network files.
Cloud files.
Usage example
Primarily a drawing package:
– Creates a machine
– Building plans, diagrams, floor plans
– Updates to related 2D and 3D models must be done manually
Mainly an engineering package:
-Simulates how the machine moves in reality
-Part assemblies, mechanics, finite element analysis, complex surface modeling, rendering
-Detailed 2D drawing based on assembly or 3D model that is updated every time the 3D model changes
As you can see, Fusion 360 is far superior to AutoCAD in some ways, although it's not a program with as much history in architecture.
Price
Fusion 360 also has a subscription model, although you may be able to get it for free. If you want to know if you are eligible to have it for free and how to do it, we have an exclusive article about Fusion 360 where we talk about it – Fusion 360 for 3D Printing.
Here's a price chart to give you an idea:

Sketchup, the alternative for architects
Sketchup, the Google software, has been very popular for a long time. Currently it has been somewhat sidelined by Fusion 360, but there are still some instances where it is interesting to use.
Features
Sketchup has some interesting features:
It's based on a web application, so we can model anywhere and store our models in the cloud.
The paid versions include access to the 3D model repository known as 3D Warehouse. In it we can find a lot of models of almost any subject to incorporate them into our projects.
A huge range of plugins is available in the repository known as the Extension warehouse.


Price
Sketchup has its free version, which is limited in certain aspects but is still quite functional. For more advanced home users or professional users, we have several subscription alternatives, each with added benefits over the free version.
For advanced home users the following plans are available, ranging from free to pro, at a cost of $299 per year.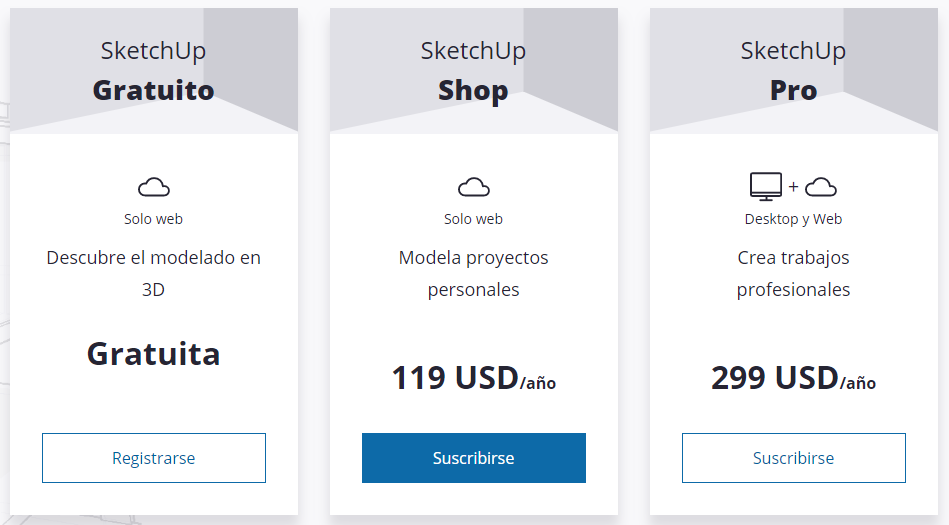 For professional users there are several other price plans plus extra features not available in any of the home user plans.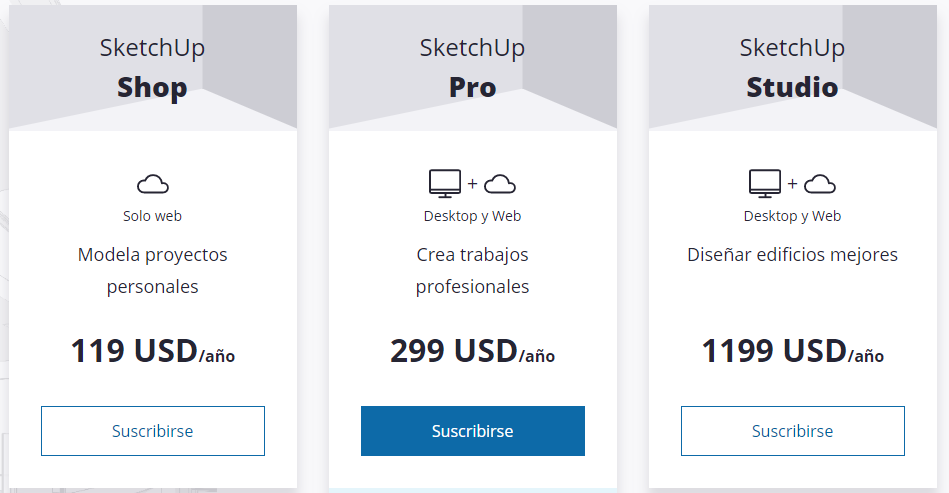 These features include things like the ability to use Sketchup's unique "performance-based design" module.
They also offer student plans with reduced prices but with all the features of the more professional models.
You can check out all the features of each plan here.
SolidWorks, the most professional choice
SolidWorks is a very popular program, totally and absolutely oriented to the professional market. Both its features and its price clearly place it in the software category for professional users who need to design very complex models and use advanced functions.
Features
SolidWorks is a huge program, with a number of features that are completely impossible to cover in an article like this one. To give you an idea of why to choose it, we're going to tell you about some of its most important and valuable features.
Generative Design: A new way of designing, very different from the classic parametric CAD experience but much more powerful in certain circumstances.
Modular Offering: SolidWorks is quite expensive professional software. As it is oriented to the industrial design market, it offers several modules to cover specific needs of certain sectors of this market, so we can acquire only those modules that we are interested in to adjust the price.
PCB Design: This program offers a fairly complete module for designing electronic equipment from scratch, including the PCB and electronics and also all other structural parts.
Simulation: SolidWorks offers a simulation module, where we can simulate certain conditions in the designs we make to check their viability.
Managing Imported 3D Models: Other CAD design programs such as Autocad or Fusion 360 do not get along very well with designs imported in common formats such as STL or OBJ, having many difficulties in editing them and incorporating them into our models. SolidWorks manages this aspect much better, so it is a great alternative if you are going to work reusing 3D models.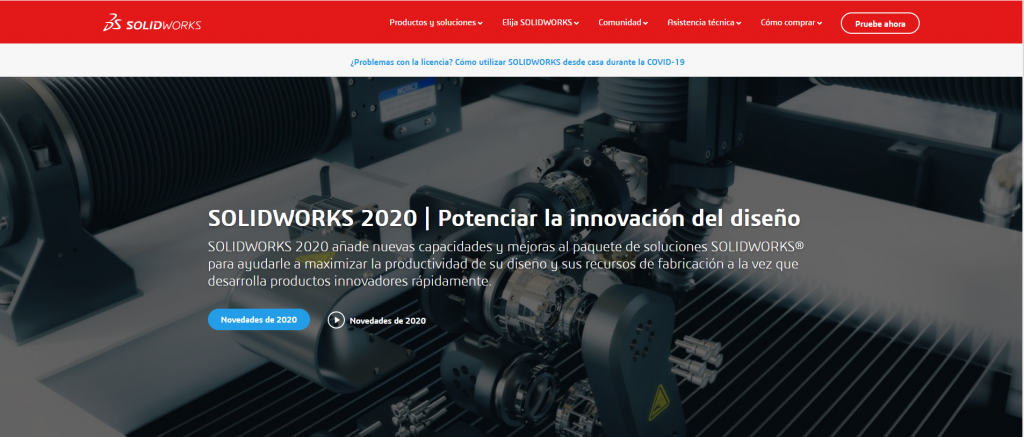 Price
SolidWorks is expensive, very expensive. So expensive that it makes AutoCAD look cheap. That's why it's not a software designed for makers, no matter how pro they are. On the contrary, it is designed to provide an excellent service in very demanding industries such as mechanics, automotive or weapons.
As for the price, it depends a lot on which modules we choose, but it starts from about 10,000 euros for a single-user license, which can go up a lot depending on the modules we choose.
Other alternatives to Autocad
We have left out a few options, as we don't want to make these articles too heavy for you to read, so we have chosen our favorites.
Some additional options that may be interesting are the following:
Openscad: A program for designing in 3D using programming. Extremely powerful for professionals with programming skills who want to approach 3D design. It is free and open source.
Freecad: This totally free and open source program was very popular years ago. Now it is a little less fashionable but still a very valid option for mechanical design. It allows you to run python scripts to add functionality.
SolidEdge: An alternative from Siemens that incorporates many of the features of AutoCAD for both 3D and 2D design. It also includes much more expensive software features such as generative design and simulation modules. Its price starts at $75 per month.