3D printed prostheses are revolutionizing the medical market and unlocking it to sectors of the public that could not afford them, liberalizing and democratizing them.

🔝 Are you ready to see the 15 coolest 3D-printed prosthetic projects?
From the introduction of 'open hardware' to the world through 3D printing, many makers set out to try to improve other people's lives, and that's what we want to talk about today: how we can make low-cost functional prostheses for others.
For this we will see what type of prosthesis there are and what are our favorite projects involving them. If you know someone who needs prosthetics like these, we'll give you the information to go to the right sources and, who knows, maybe one day you can join the cause 🙂
Having said that, we begin.
What are 3D prostheses and why do people talk so much about them?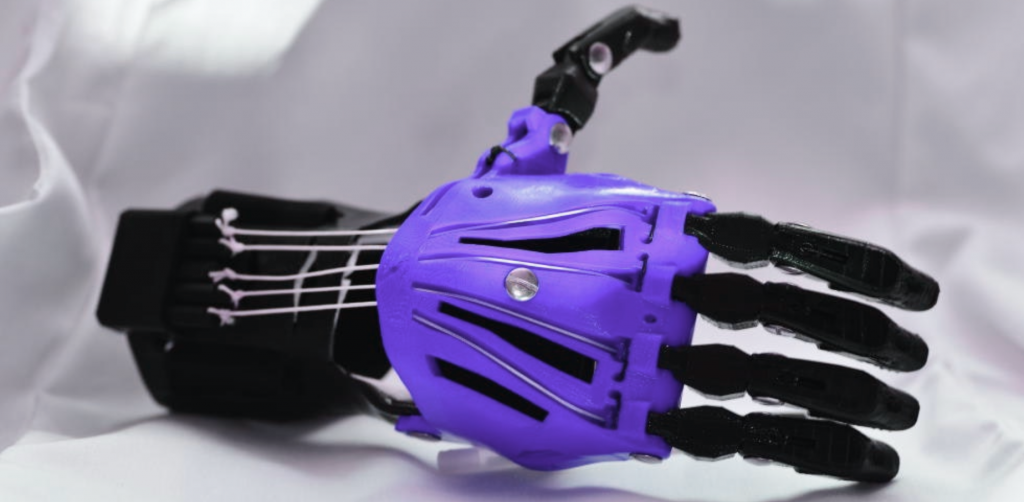 3D prostheses are functional prostheses of various parts of the body developed with free 3D printing technology, which makes them affordable to everyone and extends their manufacture to the common user. This also has several advantages that we at Bitfab would like to highlight.
✅ 3D prostheses are very cheap.
An arm prosthesis can use almost 2[kg] of 3D printer filament, which can reach 25 [€/kg] with semi-resistant materials. To be able to make a complete and useful hand for 30 euros was practically inconceivable a few years ago, in which the investment was at least about 500€.
✅ They are manufactured very quickly
Its manufacture is quite fast: all you need is a 3D printer and a 3D model of what you want to do. A hand can take about 20[h] to make completely and counting with another 5[h] of assembly, you can have your hand ready in almost a day.
✅ They are resistant and durable
Today there are highly mechanically resistant 3D printing plastics such as PETG, which can withstand continuous high temperatures without degrading or deforming and is not expensive at all (and relatively easy to print in 3D). However, it must be borne in mind that they are usually reinforced, especially in weight-bearing limbs such as feet or legs.
✅ They are very customizable
Today's 3D printers can manufacture almost any geometry you can imagine and if you're good at designing, there are no limits. Add the Ironman symbol or Wolverine's claws to a child's arm; those small details are what will light up the eyes of the little ones.
3D prosthetics for children, a technology with a future
Luckily, today there are many functional prostheses for the youngest, but unfortunately in Africa they are still somewhat far from reaching the same level as in the more developed countries.
For this reason, workshops like Supergiz of the website 'Autofabricantes' were created. These workshops brought together children with disabilities in the upper limbs of their bodies, their parents, and mobility specialists working as occupational therapists, and began to develop limbs for specific uses.
Some examples were gadgets for playing basketball, rowing in a canoe, jumping rope, playing guitar, making a ponytail, being able to draw and write, and pulling up a pair of pants or skirt. The children were involved in making their own gadget, which made them normalize their situation and create future ideas for less developed countries.
Hand and Forearm Prostheses, the most sought after
Youbionic, a very technological prosthetic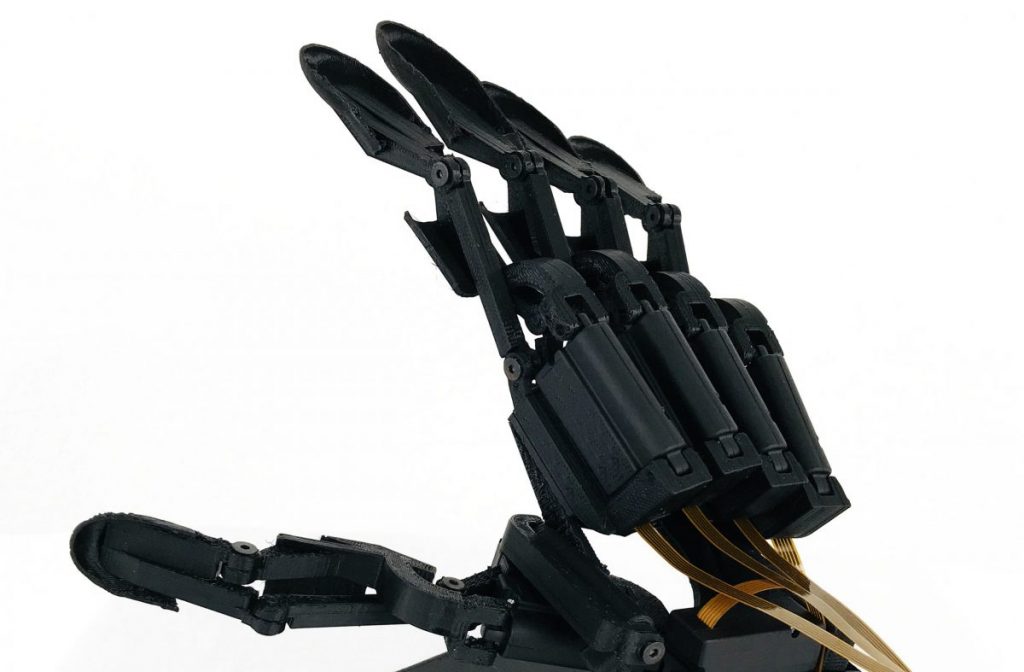 Youbionic was created by Federico Ciccarese, an engineer of Italian origin who released it at the end of 2016 combining different free technologies. The result, at least in our opinion, is spectacular.
This prosthesis is based on myoelectric technology and is made with 3D printing technologies as well as adding the famous Arduino 'open source' plate which, through sensors, can feel the muscle of the user and allows him/her to make different grip movements. The Youbionic has already been released to the market with a price of €1.200.
The low-cost bionic hand, BionicHand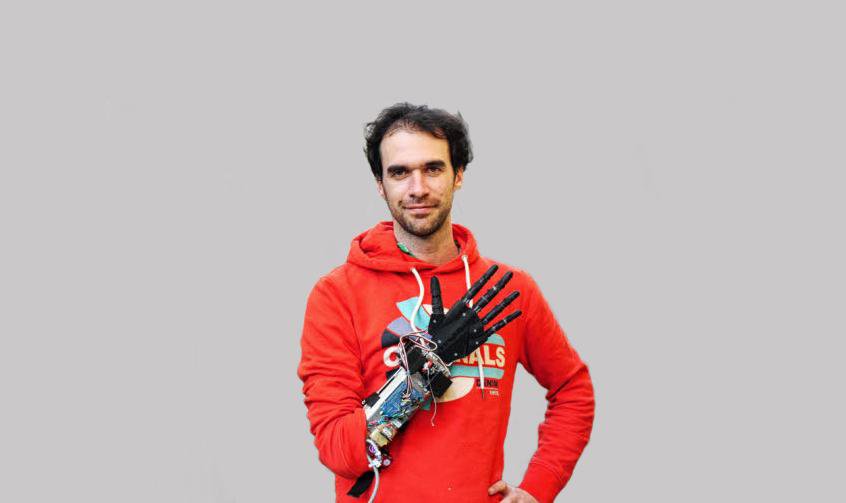 This project was created by Nicolas Huchet in 2012, who after years of hard work developing the project using free tools, both hardware and software including 3D printing, gave birth to BionicHand.
After years of searching for functional prostheses without success, he got to know the project of the Inmoov robot (of French origin) that motivated and helped him to develop his Bionic Hand. This prosthesis uses myoelectric technology (we'll see what that is later) and allows its users to make 4 basic hand movements. It's also customizable and has a value of less than 300€.
The unnoticeable prosthesis, Unlimited Tomorrow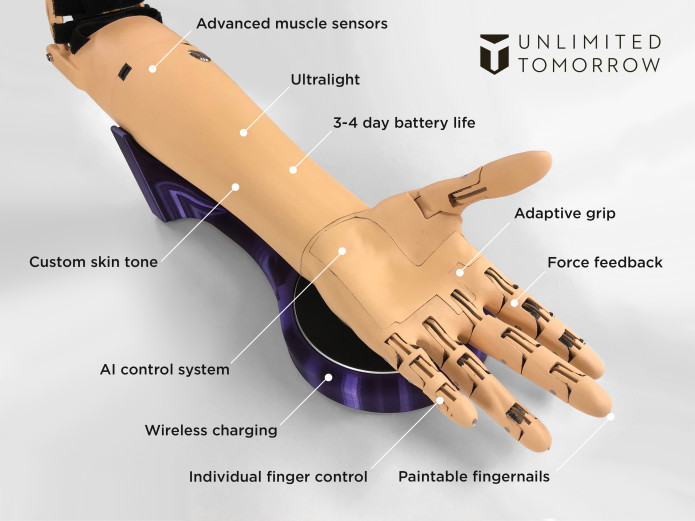 Unlimited Tomorrow was created by the sixteen year old American Easton Lachapelle, who had already made some inroads into 3D printing, focusing mainly on the creation of this type of prosthesis.
A couple of years later he would create the company U.T. (Unlimited Tomorrow), a foundation that manufactures 3D printed prostheses of arms, focusing on its functionality and, above all, its realistic appearance (to minimize the impact of users when wearing them). Its first prototype, after several ergonomics tests, was launched in 2017.
Leg Prosthesis, the most complex of all
Leg prostheses are the most complex to do with free technologies for one simple reason: It is the part of the body that carries more weight (including on the foot, of course). This means that materials such as fishing rod thread or insulating tape that can be used on the arms or hands are not good for these ones. The users need to feel safe with them, or they'll feel like they're sitting on a chair with a broken leg.
Companies like Unyq took all this into account and through 3D printing began to develop models of legs (and arms) fully customizable by the user from the model, color, material and, obviously, the total adaptation to the anatomy of the subject or the use that will be given of it.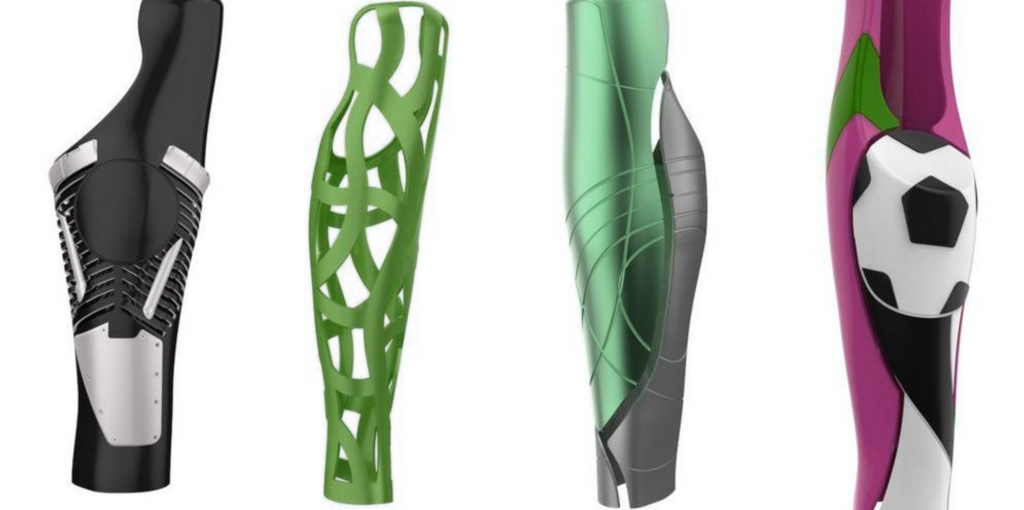 An example of this type of prosthesis can be the one worn by the German-born cyclist Denise Schindler, who won the silver medal at the Paralympic Games in Rio de Janeiro. The prosthesis was created in conjunction with Autodesk, which was responsible for virtually all the development.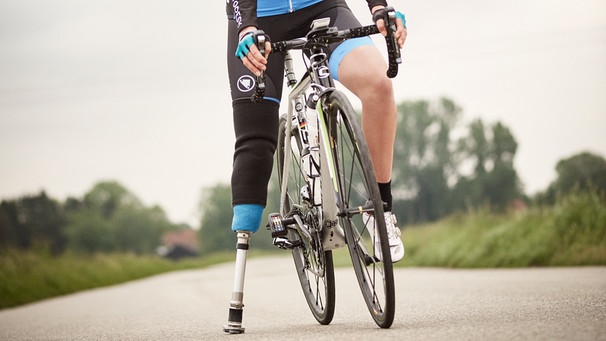 Finger prosthetics, microtechnology in its pure state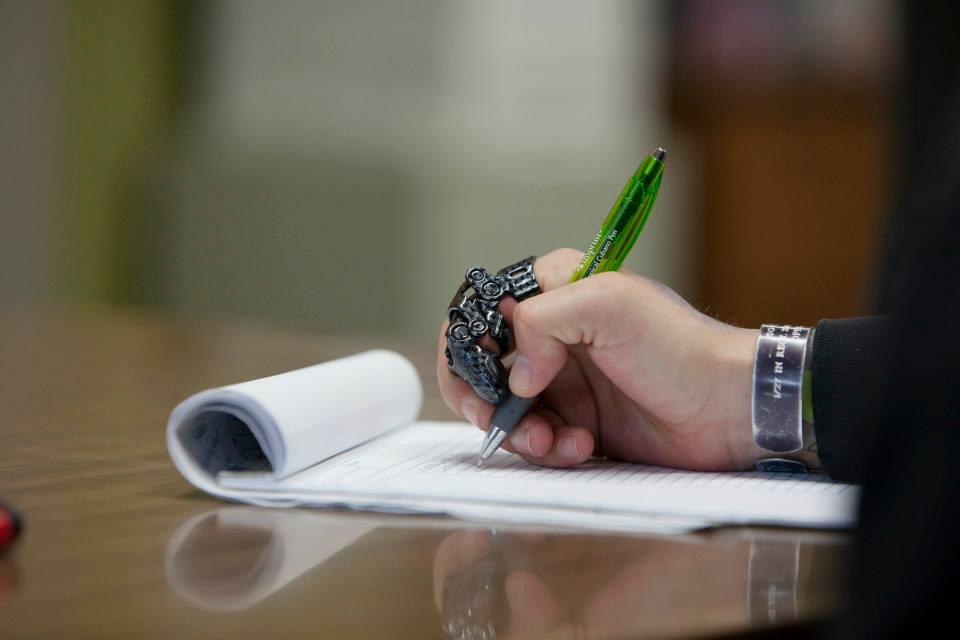 When it comes to finger prostheses there is no better company than Naked Prosthetics, a company specializing in it through 3D printing. Created by Colin Macduff after the amputation of one of his fingers, he used his experience in the army to design a functional finger for himself.
The name of the company evokes a liberation of the stigma suffered by those who have had amputations, creating functional prostheses for them that may even allow them to finger-pick a guitar or play pingpong again.
The development of the product begins with the sending of the measurements of the client's affected area with the help of a doctor. That's a demonstration of the usefulness of 3D printing in medicine! The rapid prototyping is then started by testing and manufacturing the final model using the SLA (stereolithography) technique. The whole process takes between 10 and 12 weeks thanks to 3D printing.
Prótesis para animales, una buena forma de colaborar
Animal prostheses, a good way to collaborate
I love this point, because several initiatives have been launched for prostheses for animals, who as you know, usually end up being put down when they can no longer move. This would change everything
One of the first initiatives came from the young engineer Alejandro Colli, who assembled a 3D machine and decided to use it making limbs for dogs with amputated legs and best of all, he gives them for free. It takes a day and a half to make them and they cost about 15 euros.
Another example of a high standard is Derby, a dog in the United States, which was born with a malformation in the legs that prevent him from moving the lower parts. Thanks to 3D printing he is now able to run through wheel-shaped legs that allow him to move himself very efficiently. The video is worth watching.
Printed dental prostheses, in increasing demand
For me, one of the fields where there is more future when it comes to 3D printing is that of dental prostheses. We know some veterinarians who decided to buy a specialized 3D printer and now sell customized teeth to racing greyhounds for approximately 6,000 euros (these are somewhat special cases; their budgets are usually cheaper).
The procedure is very simple: simply scan the model of the hole where we want to introduce the new piece and model it with the printer's 3D design program. Then, we load the file and using technologies such as stereolithography the object is gradually created through layers that measure microns.
The most expensive thing in this sector (and where companies really profit) is not so much in the printers but in the materials they use to print, which have to be innocuous so that the patient's body does not reject them.
Mércuris, specialists in feet prosthetics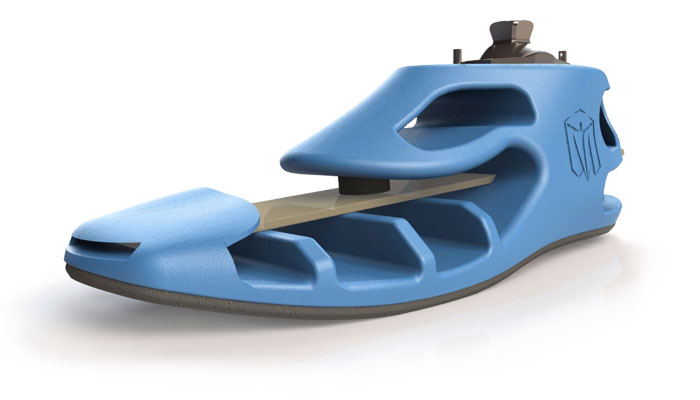 Like other manufacturers of prosthetics using 3D printing, Mércuris also applies this technology to the creation of its models, which are marked with the highest quality certification of the European Union.
The patient can develop his/her personalized prosthesis through the Mércuris online platform, and then it is built in one week (which the company wants to reduce to two days). This manufacturer also develops foot prostheses for children called FirStep, which are available to see on their website.
What are myoelectric prostheses?
Myoelectric prostheses are electrical prostheses controlled by the patient and his/her muscles (or its contraction). This type of prosthesis is nowadays the type of artificial limb with the highest degree of success in rehabilitation.
On the one hand, they synthesize a better aesthetic aspect, as well as having great strength and prehensile speed. They also offer many possibilities for combination, enlargement and personalization.
How can I help, NGOs that are dedicated to 3D prosthetics
Today there are several NGOs that are dedicated to the creation of 3D prostheses for those who need it most, and in a very economical way. You can even download their models completely free of charge. Think about telling your friends to go on a volunteer trip and help one of these initiatives :). Here is a list of the best known worldwide and in Spain.
Ayudame3D.org, our favorite project!
Guillermo Martínez was the promoter of ayudame3D, an organization dedicated to the creation of low-cost prostheses. An industrial engineer by profession and philanthropist, he has created complete, semi-complete and functional hand models which he has taken to African countries to help those most in need.
You can help him through his website and make your own prostheses to donate.
E-Nable
E-Nable, based outside of Spain, is the most popular platform in the world of 3D prosthetics. It has a large community which shares its projects and designs, verifies them and shows how they are applied. You can also join through their website.
LimbForge
LimbForge is an association that aims to provide prosthetics to third world countries where people often cannot afford them. It has developed several 3D printed prosthesis models for: arms, elbows, forearms, wrists as well as hands, with options to fully adapt to the wearer. After 3D modeling the prosthesis is printed in 3D from a plastic material that can take a different color depending on the skin tone of the user.
Atomic Lab
Atomic Lab is an association based in Argentina which is dedicated to connect people who want to collaborate giving prostheses printed by them, with people who need them. To do this ( from anywhere in the world) enter their website. No one will ever ask you for money, it is totally free.
Handicap International
Handicap International is an NGO founded in France in 1982 whose focus is on helping people with disabilities and those in need. In 2016, Handicap International launched a research project in which 3D printed leg prostheses were developed through a 3D scanner that created a digital model of the specific part of the body, and sent it to a 3D printer, which created it. The organization's goal is to help people in developing countries and conflict zones obtain very high quality prosthetics.
What did you think of our 3D printer prosthesis article?
First of all, we wanted to congratulate you on getting here (few do) and ask you to leave us in the comment section what you thought of the article. At Bitfab we take our readers' opinions very seriously and we would love to hear yours.
If you prefer you can also give us a hand by sharing this article on social media so that it reaches the widest possible audience and everyone knows how 3D printers are used to do good! 😊
3D prosthetics are a way to help others through 3D printing and give meaning to our machine that we often keep sitting there laughing in a corner of the room.
Once again, thank you for getting here. See you at the next post 🙂