As you may know, Bitfab is collaborating with one of the most advanced 3D printing projects in medicine in Spain: the 3D Printing Laboratory of the Gregorio Marañón Hospital in Madrid. You may have heard because I, Diego, can't stop talking about it every chance I get. I still work at Bitfab in the afternoons, but I go there every morning to help them with the technical part and manage the day to day as I'm expanding my mind to medical 3D printing.
And as I always say, the merit is not mine even if I like to talk about the project: Rubén and Jose are the doctors who created it, and you will know about them in the article.
The variety of medical 3D printing projects that are done there is amazing: we make biomodels and guides directly for the doctors, who then use them to communicate, operate, try out new techniques… all in real clinical cases, helping real people with real conditions.
What is the Gregorio Marañón's FabLab?
The Marañón FabLab is a 3D printing laboratory where every day the doctors at the Hospital ask us to help them with 3D printing to solve their healthcare problems. Healthcare means that we are directly helping patients with completely customized models, although we also do research, simulation, teaching models… for innovative projects within the Hospital.
Who has developed it?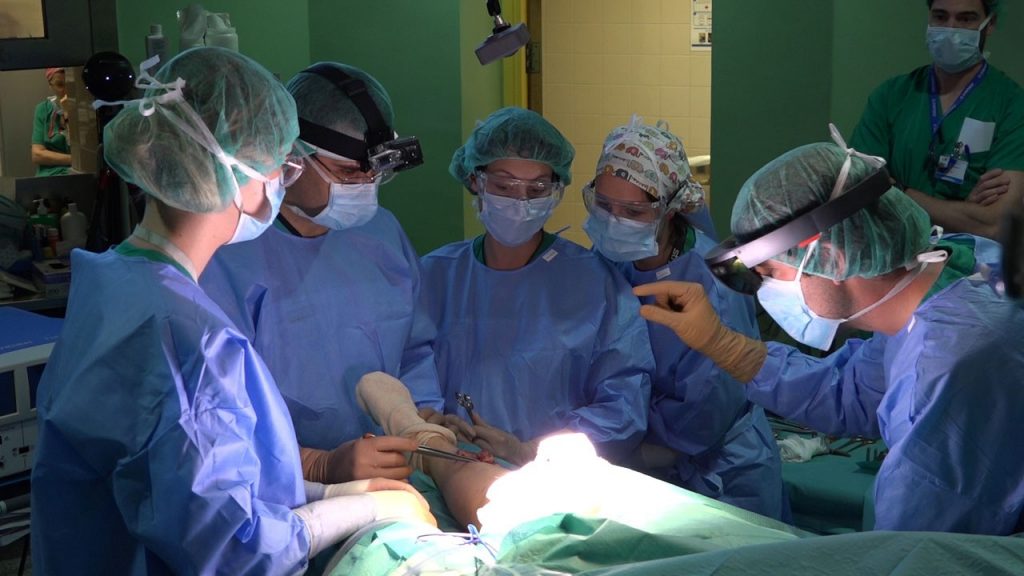 The Marañón FabLab is a project founded by Rubén Pérez-Mañanes and Jose Antonio Calvo Haro and has been operating for many years. They are two oncology trauma surgeons who saw the possibilities of 3D desktop printing within a hospital and started the project with their own means.
You can find them and follow them in social media to be up to date with everything we do in the FabLab:
Other engineers have worked in the lab, such as Guillermo Rodríguez, who introduced me to the project with this talk at T3chFest 2017 (in Spanish). There is also me and there are undergraduate and graduate students from different universities in Madrid who come to train in 3D biomedical printing.
The workflow of the Gregorio Marañon Hospital
How is the typical case printed in the Hospital's FabLab? Let me show you what the workflow looks like and what programs we use for each phase. You will see that we use many free tools, freeware and desktop printers. That is because the philosophy of the Fablab is open and we aim to make 3D printing in medicine much more accessible with desktop solutions that are within everyone's reach today:
Communication. Usually the doctor (especially surgeons of all specialties) goes to the laboratory with the case he wants to print, what he needs it for, what kind of product he wants to print (biomodels, surgical guides, splints, instruments, research projects…). It is an unparalleled opportunity to be in direct contact with the doctors, which is the advantage of having the 3D printing laboratory integrated directly into the Hospital.
Medical imaging. The starting point of the cases is the medical image in DICOM format: a TAC, an MRI, etc.
Segmentation. This is where the medical image, which comes in layers, is transferred to a 3D file that can be printed, modified, visualized, etc. We usually use 3D Slicer (open and free), Horos (open and free) or proprietary solutions such as Phillips Portal.
3D modeling. The meshes generated by the slicing programs cannot always be printed directly. It is often necessary to process them to improve printability or to modify them. For this we use Meshmixer, a free software from Autodesk. If it is necessary to make surgical guides it is essential to use it; with it we create cutting templates so that the surgeons cut exactly where they have previously planned in 3D.
Slicing. Slicing the parts is done with Cura by Ultimaker and Preform for the resin prints.
Printing. All the printers we use are professional desktop printers, simple but powerful machines that allow us to produce parts every day at a reasonable cost. We have Ultimaker (2, 3 and S5), Witbox 2 and Form 2 from Formlabs for the resin parts.
Publication of all cases. The FabLab philosophy is open, so all cases are shared on Twitter and Linkedin. You can see it yourself in the lab's twitter account.
What do we do in the Fablab? Examples of 3D printing applications in medicine
Biomodels
Biomodels are 3D printed parts from image segmentation, anatomical models of the patient's body parts to be visualized or physically held.
What are biomodels for? They fulfill the following functions:
Communication between doctors who plan treatments and surgeries
Communication with patients
Surgical planning, trials… Checking if the instruments can access the area to be operated on, choosing a prosthesis size before operating, pre-folding plates before putting them on the patient, etc.
Simulation and teaching
A very interesting case of simulation is the model we made for Dr. Javier Río: a complete aorta printed in TPU (flexible) and PVA (soluble) so that he could try a new surgical technique.
Also in teaching, Dr. Juan de León designs models of hearts for a course in diagnosing heart disease in fetuses by means of ultrasound scans.
Surgical guides
Surgical guides are templates to guide cuts and punctures during surgery. We manufacture them in biocompatible materials with Form 2 and they are used mainly in interventions to remove tumors, because they allow planning the operation in 3D in advance and cutting with precision to remove the least amount of healthy tissue possible.
Navigation and Augmented Reality
One of the fields where the Marañón Hospital is a pioneer together with the Carlos III University is in navigation operations and augmented reality. Anatomical markers (that fit in a fixed position on the patient) and cameras located around the operating room are used to guide the surgeon in 3D during surgery for complex cases such as resection (extraction) of pelvic tumors:
Thank you very much for reading 🙂