3D printing is a technology that has revolutionized a lot of industries, including the decoration and home furnishing industries. We have done a lot of research in this area, and today we want to bring you a new article about one of the most eye-catching items you can print in 3D: lamps.
Sounds interesting? Then keep reading.
Why print a lamp in 3D?
The truth is that there are several reasons why printing a lamp in 3D is a very good idea. The first of them is that it allows you to choose a totally customized design, without having to pay a huge amount of money in order to have a cutting edge and modern aesthetic. The second one is that you can make this lamp using the materials you like the most, thus adding an extra layer of customization. Finally, printing in 3D your lamps allows you to create effects that would be very difficult to achieve with other technologies.
A different lamp
The first benefit we have mentioned is that, when printing a lamp in 3D, you have a lot of freedom to choose a design that fits the look you are seeking without having to pay dearly for a designer lamp. If we search in Amazon, for example, you will see that most of the results you find are simple and dull lamps, all of them equal to each other.


As you can see, there's not much of a variety. On the other hand, using 3D printing is just as expensive and difficult to print a lamp regardless of its shape, so you can choose from a lot of different options (as many as you want, in fact). We have done a little search through the most relevant 3D design download sites and found a lot. Here are some of the most interesting ones.
As you can see, there are quite a few styles of lamps. In the first case we found one of the popular moon lamps. These lamps printed in 3D have the shape of the moon and its relief, so that when you turn on a light inside it produces an effect similar to that of lithophanes (which we will talk about later).
The second example is one of the traditional salt lamps, but this time printed in 3D. You can print it in any color you want and you can choose several shapes, so you can get the look you like best on your "salt" lamp.
These two models are examples of slightly bolder designs. As you can see in the first one, it is a design of a vase turned into a lamp. By printing it with semitransparent materials you can create effects as amazing as those seen in the photo and all this with a simple and fast printing model.
The last example is surely the most striking of all. It is a 3D printed model that represents a kraken tentacle breaking through the window of a ship. This tentacle is wrapped around a hole specifically placed for a light bulb of our choice. The truth is that we loved this design and it has nothing to envy to much more expensive designer lamps.
Impossible lamps
You already know that 3D printing offers the advantage of manufacturing parts with a very complex geometry. This allows us to have much more freedom when designing our lamp, and so we can make parts that would be almost impossible to produce using other technology.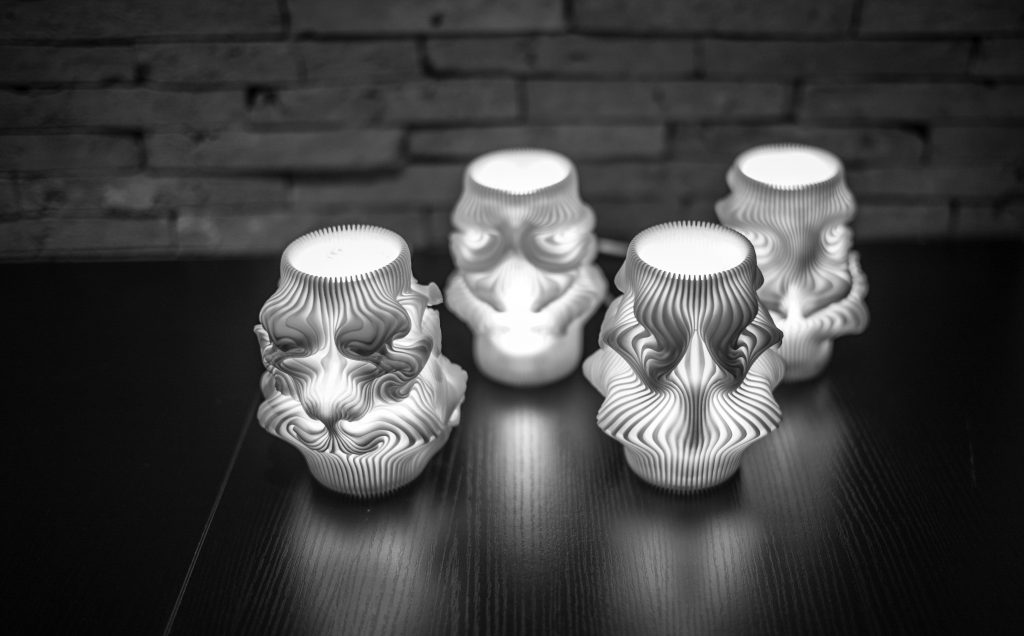 Lithophanes
One of the things you can do with 3D printing but not with other manufacturing techniques. A lithophane is basically a 3D representation of a photograph, so that when you shine the light through it, you can see the original photo with all its details.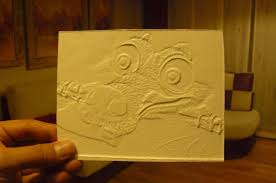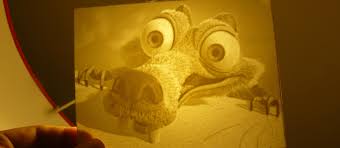 There is even a very simple website where you can easily create your own lithophanes with the geometry you want for your lamp.
Lamps created with lithophanes are really amazing and very easy to customize and make, so they are a great gift idea or for your business.
Large format lamps
Another advantage of 3D printing is that, having a model, it is very easy to scale it to print the size we want. Knowing this, it is easy to find models that, scaled to the right size, can constitute a nice large format lamp.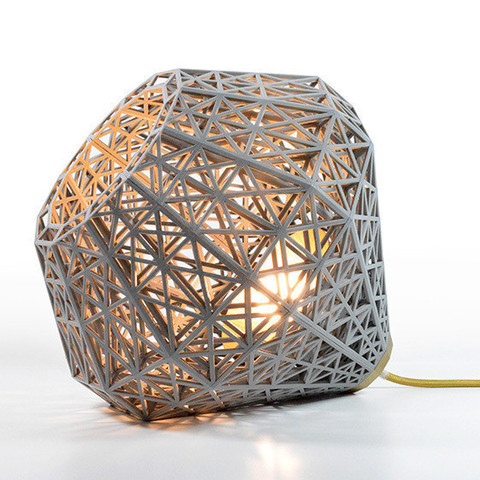 Coupled with technologies such as pellet extruders or the new infinite Z-axis printers (of which we will tell you more soon), we can create lamps with incredible appearance and of a very considerable size, spending very little money and in a short time.
Using all these techniques it is easy to imagine large format lamps, with a groundbreaking aesthetic, customized to our taste and manufactured at a low cost. An example that we have liked very much is this large size death star lamp. You can find this model in Myminifactory.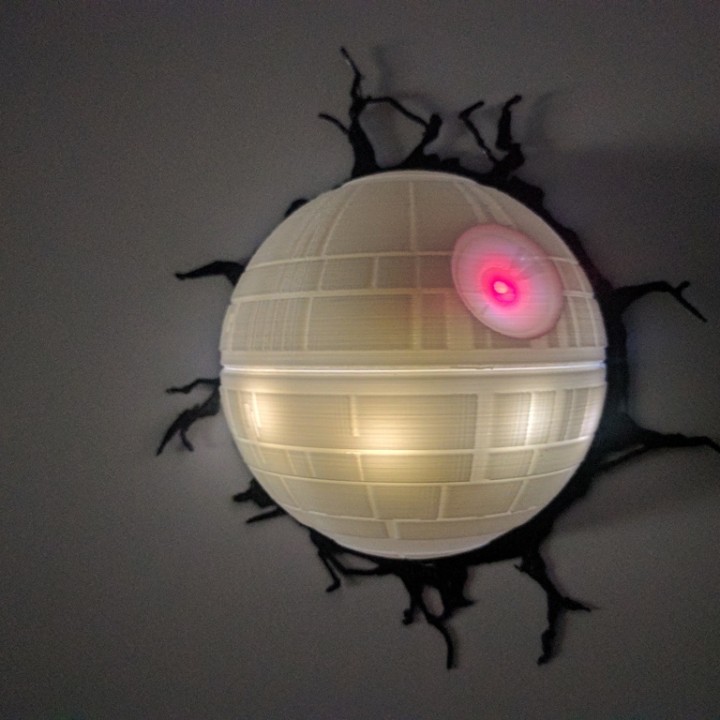 RGB lamps with 3D printing
To see how far you can go with 3D printing, I recommend this project from Duke Doks, a youtuber that keeps making perfect videos on 3D printing. This lamp is the proof that with good design and using 3D printing correctly, you can make high quality items:
3D printed lamps in Bitfab
In Bitfab we love to innovate and bring 3D printing to all industries, whatever it may be. We believe that, through digital manufacturing, we have the opportunity to renew such traditional industries as household supplies. With 3D printing we can make more original, more personalized, and cheaper lamps in less time. In addition, you can prototype your designs much faster and get your models out sooner thanks to this time saving.
We are convinced that 3D printing of lamps makes sense. What about you? Do you have any doubts? Do you want to make your lamps or have us make them for you? For all this and much more, contact us.