Hookahs, shishas, or argilahs are a very fashionable item nowadays. Having gained so much popularity, there are lots of specialized places where you can smoke hookahs, as well as many shops where you can buy your own.
If you're a fan of this Arab tradition, you'd probably love to be able to have custom mouthpieces to your liking. Would you like to be able to smoke your hookah through the football world cup? Or your favorite Star Wars character? Then keep reading because we'll show you how.
3D models of hookah tips
As we have already mentioned in our article about the best sites to download STL files, there are many alternatives if you want to look for an existing mouthpiece and just print it out.
We have made a small search and we have found some quite interesting models to share with you. This way you can get an idea of the kind of tips for your hookahs that can be manufactured in 3D.
Skull mouthpiece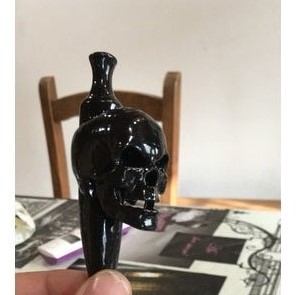 There is little to explain in this case. It's a very cool mouthpiece, with a striking aesthetic that will attract anyone's attention. You can find it in Thingiverse.
Football World Cup tip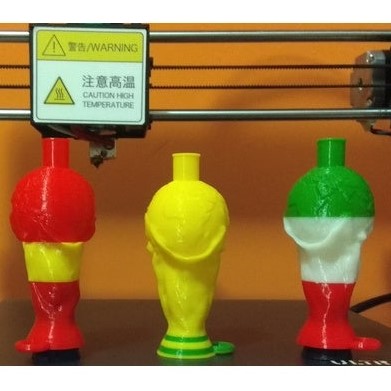 I think we all remember the World Cup in Russia in 2018. With this mouthpiece you can be closer to your idols while comfortably smoking your hookah. You can also find it in Thingiverse.
Joker shisha tip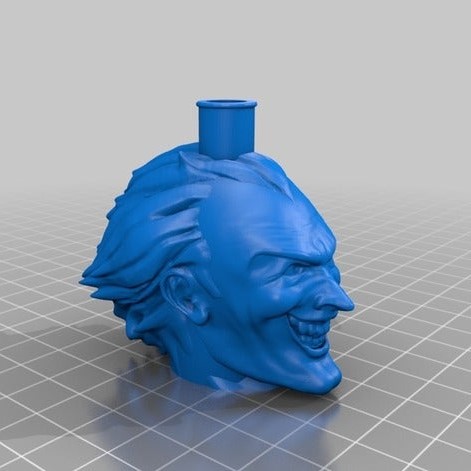 After the last movie starring the magnificent Joaquin Phoenix, I'm sure you all know this DC villain. This model, although not based on this actor, is still a faithful interpretation of the character and a great 3D model. It is also available for download in Thingiverse.
Yoda mouthpiece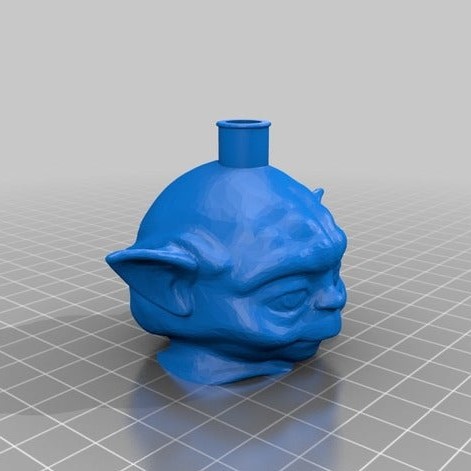 If you haven't seen the new series from the Star Wars universe, The Mandalorian, you're missing out on an incredible adventure. What you certainly haven't missed is their charismatic character baby Yoda, which has gone viral on the Internet in recent days. This model is not the baby version, but the traditional Yoda that we all love and respect. As the green master would say: download this mouthpiece in Thingiverse, you can.
As you can see, all the links we have left you are from Thingiverse, so you can download and try these models for free.
Designing your own 3D hookah mouthpiece?
Yes, it's perfectly possible to design your own mouthpieces in 3D. This alternative requires you to be able to handle some 3D modeling software, but it is not very complicated.
If you want to do something simple, like turning an existing design into a nozzle, it would be a relatively simple task that you could do using Tinkercad. This topic is quite interesting, but it is a bit out of the original subject of this article, so if you are interested in a tutorial on how to create your own 3D hookah mouthpieces, let us know!

Order a custom design for your 3D printed mouthpiece
We all know that the internet is huge, and it is very possible that you will find something that will satisfy you and that has already been created by someone else and uploaded to the internet. But what if you don't? Well, luckily you're in the right place.
In Bitfab we are experts in the design of 3D models intended for manufacture, either through 3D printing or other manufacturing technologies such as laser cutting. If you have thought about a specific design you would like to have but you haven't found it, do not hesitate to contact us and tell us what you need.
Our team of professionals will advise you and realize for you the design on your mind so you can have your personalized and customized hookah mouthpiece. The best thing about this is that once the mouthpiece has been designed, you can print it out as many times as you like. You can also leave the printing to us, but we will talk about this later.
How to print a mouthpiece yourself: things to keep in mind
If you already have the model you want to print out, all you have to do is print it so you can smoke it in your favorite hookah. This is where we have to warn you of a few things you should keep in mind.
First, all this will depend on the type of mouthpiece you have, as there are some designs which are meant to fit on a disposable mouthpiece. This would be the ideal case as far as health is concerned, since these disposable mouthpieces are manufactured according to certified quality and health standards. If this is your case, then what we are going to tell you is not so important, since the hot air will pass through the disposable mouthpiece and not through our printed model, so there is no need to worry.

The problem is that most designs you can find are not of this type, and are intended to guide the hot steam directly to your mouth. In this case it will be important to take into account several factors.
The first and most important is that you have to use a filament that is suitable for food use, or food safe. Most of us use PLA as our material of choice and it is fortunate because this material is perfectly suitable for food use.
PET and PETG are also better at withstanding temperature, making them more suitable than PLA for this task. Remember that this mouthpiece will work as a connection between the hose and your mouth, so it will conduct a lot of moist and fairly hot air into your mouth and, consequently, your lungs.
It would be really appropriate to use more technical materials, such as some types of nylon or other polymers, but it is unlikely that a 3D printing home user would want to use these materials.
Last but not least, remember that it would be best to use a complete new hotend, where no toxic materials such as ABS or carbon fibre have ever been printed. As usual, not everyone will have several hotends or feel like changing them, so a good approach would be to use a cleaning filament such as Smartfill's Clean filament.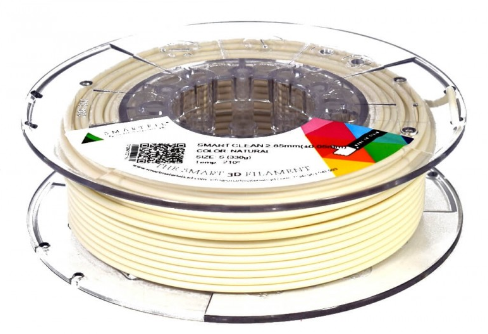 As a last resort, if you don't have this filament and can't buy it, you can use the method known as cold pull to clean your entire hotend inside, including not only the mouthpiece itself but also the thermal throat. We leave you a video where they indicate how to do it, although it is important that for this cleaning you use a food safe filament such as PLA or PETG.
Even with all this, it is not entirely advisable to print something that has to be suitable for food use on our home printer, as many more factors come into play, such as the Teflon tube we use, the way we store the material, the contact with the extruder sprockets…
As you can see, it's no picnic, so why not leave the hard work to professionals?
Have your mouthpieces made by a professional
Our team specializes in producing short run, customized 3D printing parts for companies and individuals.
Do you have an online or physical shop of gadgets and you want us to help you offer customized 3D mouthpieces? Contact us, in less than 24 hours you will have an answer in your email. We offer expert advice, design and manufacture of 3D printing.