STL files are the de facto standard for defining a 3D model in the field of additive manufacturing and more specifically in 3D printing. This is why most of you, printers, are used to download STL files to print on your machines.
From Bitfab, we are sure that you don't know some of the sites that we are about to show you, and if you knew all of them, please give us your opinion about which one is your favorite; we will be happy to hear it in the comments section!
In this article we are going to show you some of the best sites to download your 3D files for free, but also some where you can buy paid models, as some designers reserve their best models for sale.
✅ Thingiverse, the king of 3D printing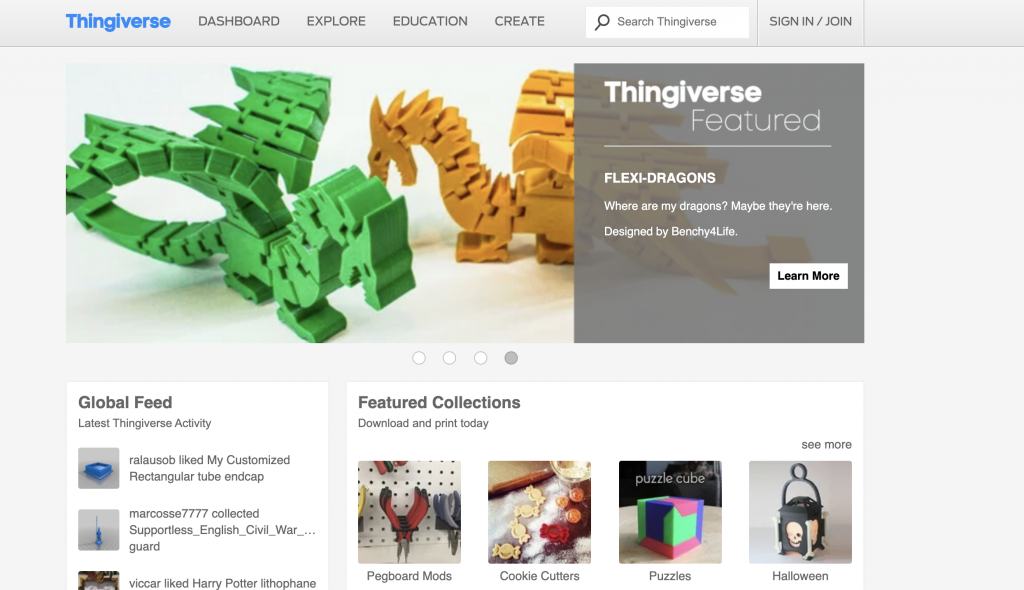 Thingiverse is the king when it comes to STL files for 3D printers. It is by far the most popular site, as well as the one with the most designs. Once we enter this site we find several sections, such as the featured designs or the most recent ones.
Searching for a file is as easy as typing a term in the search bar. When we choose one of the designs, a screen like the one in the image appears, showing both the images of the model generated by the page itself from each STL file (in blue) and photographs of the printed model uploaded by the author.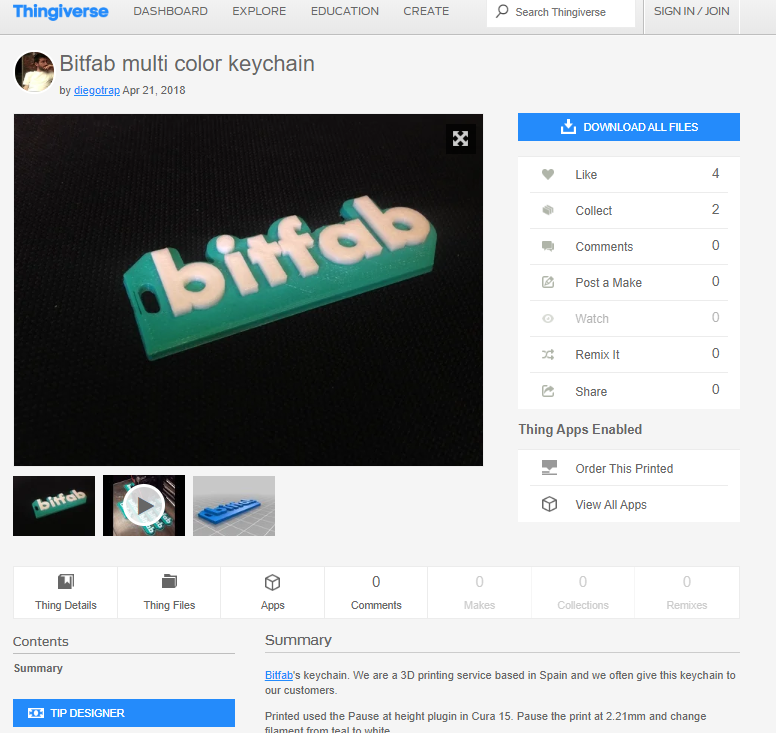 It is important to note that in Thingiverse anyone can upload their 3D models, so it is common to find files of dubious quality that will be difficult to print. In case of doubt, a good strategy is to consult the comments section, where we will often find opinions of users who have printed or tried to print the files.
In addition, Thingiverse allows other users to upload an edited or improved version of the STL file. If this is the case, we can always find the original file on the left side of the page, just below the tags.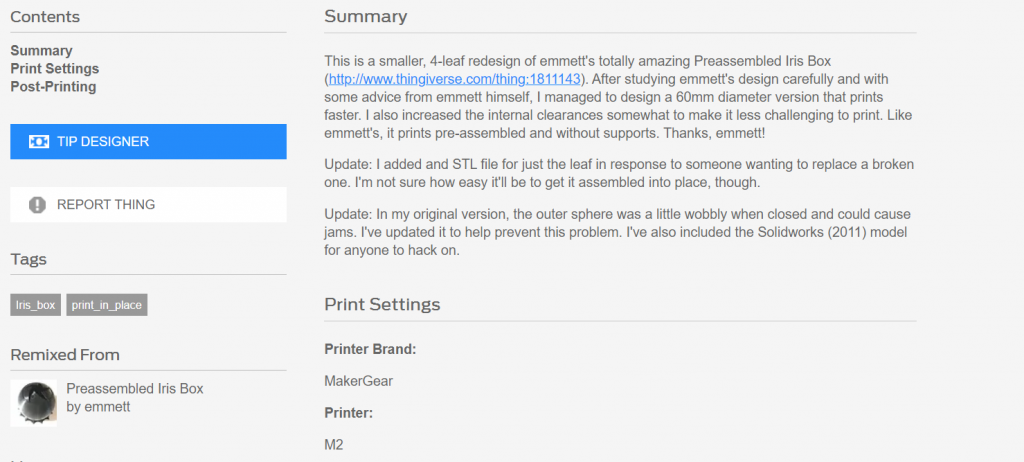 🤯Trick: Create a new STL with Thingiverse
One of the biggest advantages of Thingiverse is that we have at our disposal an extensive STL file creation and editing engine, which allows us to create STL files by adjusting a few parameters. This section is called Customizer. It is an extremely powerful tool that we have already talked about in our article about 3D custom key rings.
✅ MyMiniFactory, for figurine's STLs

MyMiniFactory is probably next in line in terms of popularity, and it's well deserved. This page, although it has less models than Thingiverse, hosts certified quality models. It is virtually impossible to find a model in MyMiniFactory that is not printable, and this is because they have a team that tests each model and ensures that it can be printed. In case the user who uploads the file does not attach a photograph of the model already printed, the team will analyze the part to ensure that it is printable.
The goal of MyMiniFactory is to democratize 3D printing, and for this reason they try to make it unnecessary to be an expert to print in 3D, providing proven quality 3D models. The fact that each part must pass a process that guarantees its validity for 3D printing is, without a doubt, one of the most interesting features of all the pages we will talk about today.

In addition, this page hosts numerous design and modeling contests, all of which have a prize from the sponsoring company. It is very interesting to check this page from time to time to see if there are any contests we are interested in participating in.
Something very interesting about MyMiniFactory is that it usually cooperates with famous brands like Marvel and that is why we will have the opportunity to access 3D models that usually could not be shared by copyright.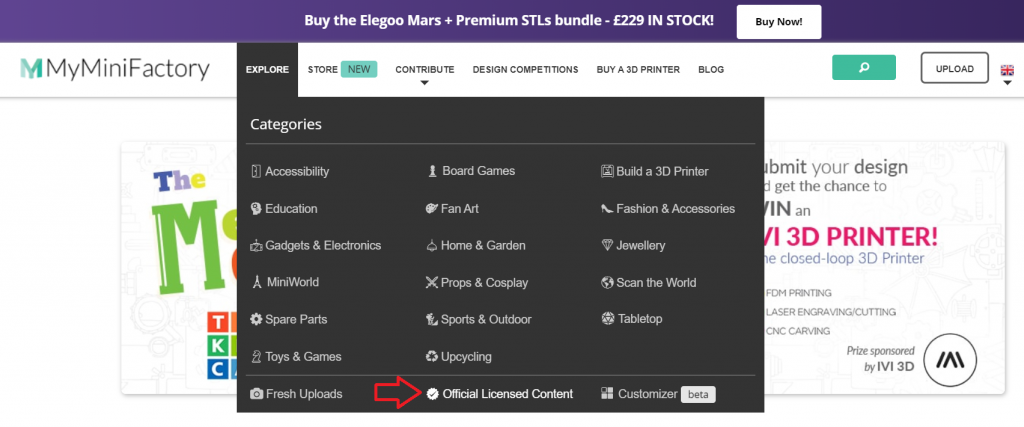 In MyMiniFactory there is also a section of paid models, where we can find really amazing designs, as many designers upload here their most brilliant works. For very little money we will find fascinating models.
✅ Cults 3D, free and paid (ideal for designers)
This time we bring you a website where much of the content is paid, but also has many free models. Cults3D has a huge selection of models of pretty good quality, since it is very common that designers only put on sale designs that they consider of great quality. In addition, it is common practice that designers with great skill upload some of their best models for free as a way of attracting new users to their paid models.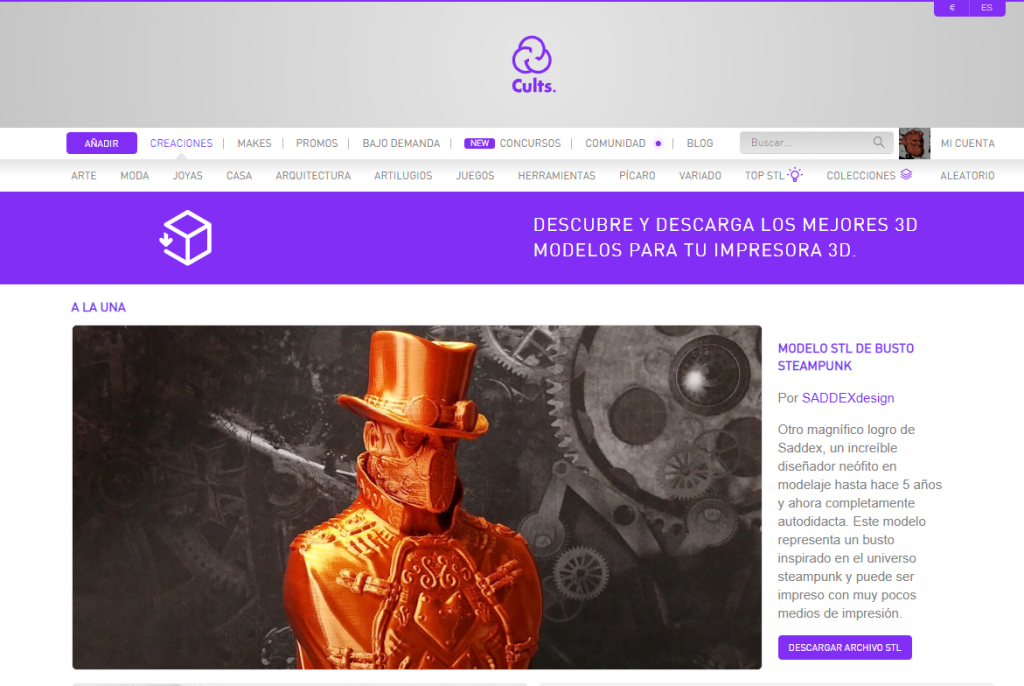 That said, in Cults3D we can find lots of free and paid designs, and the overall quality is quite high. It also has a section for contests like MyMiniFactory and another one for on-demand orders. In this section we will be able to order a 3D model to our liking, paying the appropriate price, so that expert designers from Cults3D can model it for us.
They also have a pretty interesting blog and the designs are well categorized so we can find them easily.
🎁 Bonus: Other webs to download STL files
We have shown you what are probably the three most popular websites for downloading free or paid STL files for your 3D printer, but there are many others. In this section we will show you a few more sites that may be interesting depending on what you are looking for.

This website is not specifically intended to download STL files for 3D printing, but contains a multitude of 3D models for various purposes such as animation, rendering or augmented reality applications.

As in the previous case, many of the models we will find here are intended primarily for animation, but we can still find interesting ones.

Yeggi and STLFinder are STL file search engines that index content from many sources such as Thingivese, CGTradaer, Cults3D etc. They are extremely useful pages when we want a very specific model that we can't find in other sites.

GrabCAD is one of the best places to go to download 3D models of parts and engineering assemblies: machines, components, user projects…
In addition to STL, many of the models are in editable formats such as STEP, IGES, etc.
🔧 Beyond STLs: PrusaPrinter

Although the most traditional way to print our models is to download an STL file from one of the previous pages and then use a laminator to convert an STL to gcode, there are alternatives. Some companies like Prusa are at the forefront of easy and uncomplicated printing. Regardless of the quality of their printers, they are very concerned that users can print 3D models without any prior knowledge and headaches. That is why they have launched their platform of gcode files ready to be loaded into our Prusa printer and printed.
Their PrusaPrinter platform allows us to download files already laminated, although we must have a Prusa printer to be able to print them properly.
Although this solution is marginal, as it only serves a very specific niche in the market, we think it is a good step forward in terms of facilitating the introduction to 3D printing to as many people as possible.
And you, did you know all the sites in this article? Do you know any that we left out? Which one is your favorite? We are looking forward to your comments!