We all know that, currently, Thingiverse is the best known and probably the largest repository of 3D designs.
Have you seen how slow it's running lately? And how much ads it has? Unfortunately Thingiverse is not what it used to be and there are other sites that are taking over from it.
Are you tired too? If you want to know the best alternatives to Thingiverse, keep reading because we are getting started right now.
What is Thingiverse?
Although you probably know Thingiverse, let's make a brief introduction so that we are all in the same context and know what we are looking for.

Thingiverse is a website that gathers a lot of 3D designs, classified in different categories. Most models in Thingiverse are intended to be printed in 3D, although you can find anything from models for laser cutting to complete projects with all their documentation.
Another very interesting aspect of Thingiverse is its customizable design section: Customizer. In it, users upload specifically designed models with specific guidelines so that we can then customize various parameters. These models are designed using OpenSCAD.
Beyond this, Thingiverse has a community section and some other functions, but it is basically a huge repository of 3D models.
Thingiverse started as the reference of all 3D parts repositories, undoubtedly. But since 3D Systems bought Makerbot (the company that owns Thingiverse), I think they have not given it a significant place in their strategy, and they have neglected it.
How many times have you logged on to the website and the search engine didn't work? Or the website didn't load; or it was covered with advertising.
I've lost count, and that's why I thought it was best to make a list of other options 👇
My Mini Factory
My Mini Factory is definitely one of the best sites on the Internet to search for 3D models. Like Thingiverse, it brings together a lot of designs uploaded by users, organized in different categories, most of them being free.

Myminifactory is awesome and we love it for three main reasons:
All uploaded files are verified so you can be sure they are printable
It has one of the most active communities and the number of designs keeps growing thanks to its competitions
It has its own parts customizer
My Mini Factory validates ALL models that are uploaded
Whether free or paid, My Mini Factory will validate each and every 3D model uploaded to its site. This, in our opinion, places My Mini Factory far above Thingiverse in terms of usability, especially for beginners, as it is common to find models in Thingiverse that are poorly modeled or come from video games and cannot be printed in any way.

The model creators themselves can shorten this validation process by uploading photos of the model already printed. If he/she does not do so, MyMinifactory staff will print the model to ensure its quality.
The number of designs in My Mini Factory keeps growing
MyMinifactory has always been a site that, thanks to the process mentioned above, has always had fewer designs than Thingiverse. This, however, does not necessarily mean that it has fewer interesting models, since many of Thingiverse's models are actually redesigns of models created through its Customizer app.
In addition, MyMinifactory, through its contests, attracts the attention of many designers who upload their models here to participate for some of the prizes offered.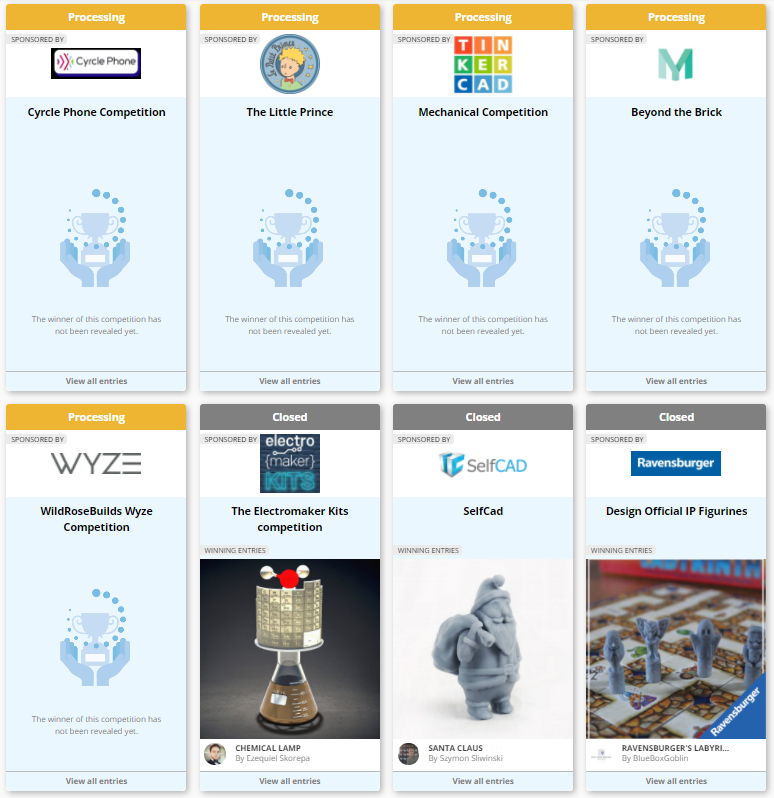 In addition to this, it has very well indexed content in various categories, each one of them well defined and with very high quality designs.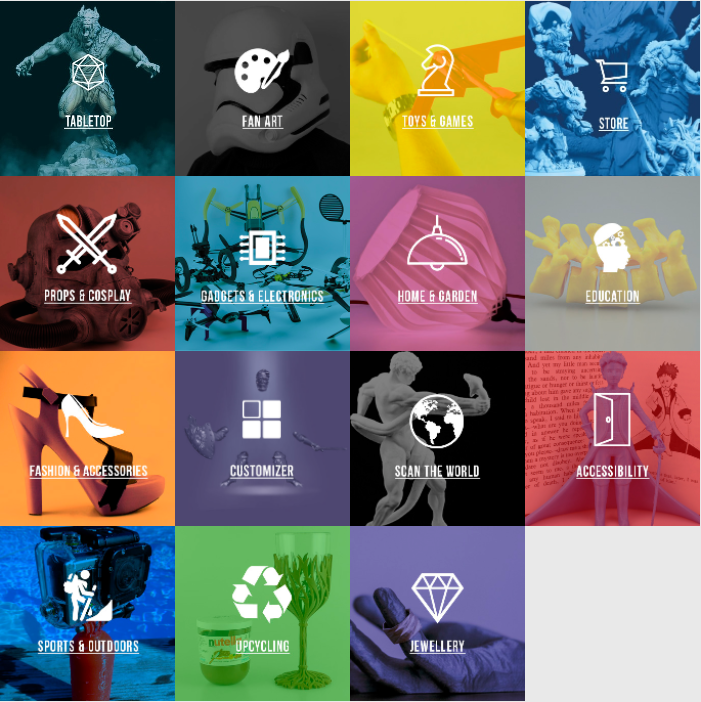 MyMinifactory also has its customizer
Although it is a very recent addition, MyMinifactory also has its own system for customizing files uploaded by other designers. Furthermore, the loading times and interface are much better than in the case of Thingiverse. We encourage you to take a look because it is a very interesting topic.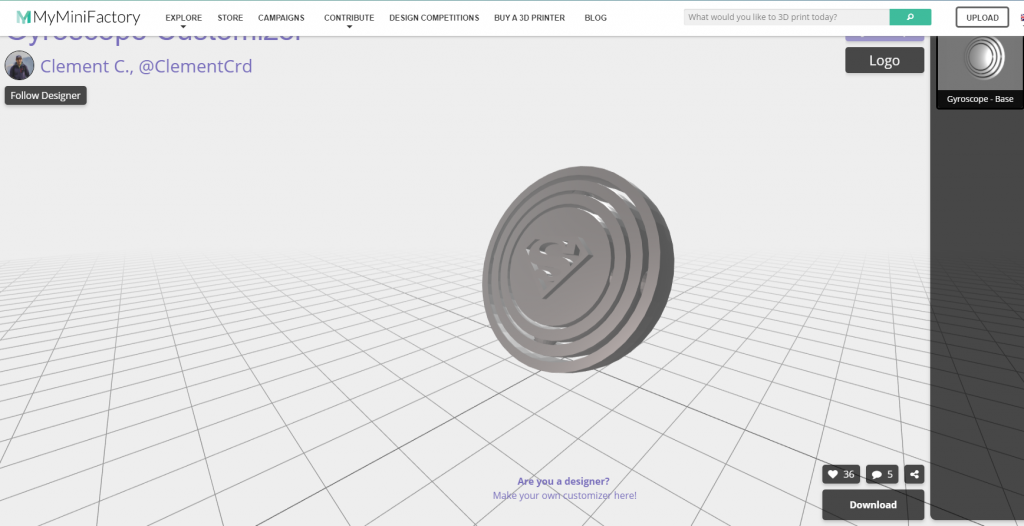 Pinshape
Pinshape is another site that has been gaining ground on Thingiverse, as it has a very similar philosophy and is very community-focused, through a forum section and a blog section.

Pinshape has a large number of designs, categorized in different sections. Some of them are very interesting, such as "gadgets", where we can find 3D models for very cool devices, such as retro consoles, music boxes, lock pick sets, drones…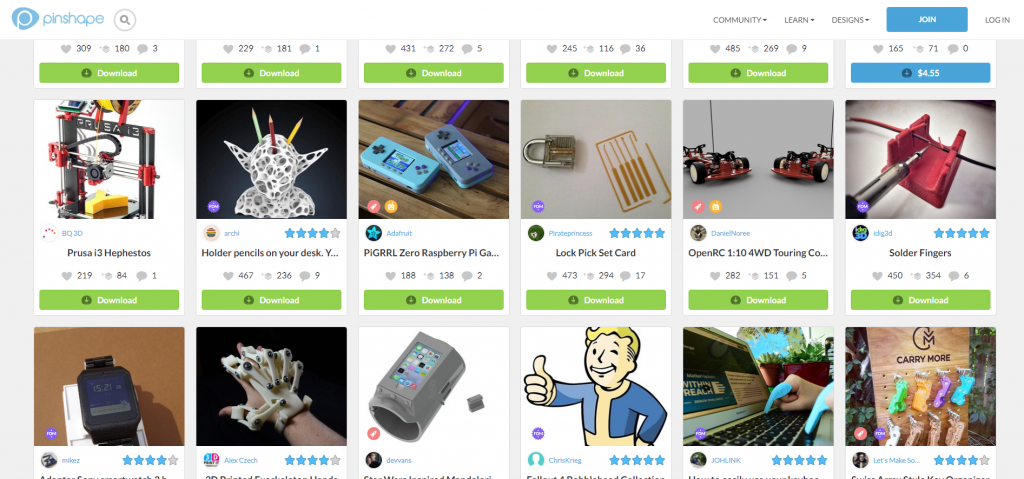 What makes Pinshape unique is its philosophy of contributing to the community, not only models to print, but a lot of knowlegde in blogs, guides and, of course, the community forums.
A good example of this is its comprehensive guide to materials, one of the best we have seen.

Their printer guide is also an effort that can be greatly appreciated by newcomers.

Grabcad
Grabcad is the place to look if you want to find 3D models of mechanical or industrial elements. It is a repository that, although it has models from many categories, it mostly focuses on designs dedicated to the industrial field.

It also has a very active community: both professional modelers and maker users looking for models for their new projects. Thanks to this active community, it is one of the best sites on the Internet to find 3D designs that you can not get anywhere else.
Best of all and, in our opinion, what makes Grabcad one of the best sites on the internet is that it not only hosts 3D models, but also CAD files that we can download and edit ourselves. We are sure that this is not the first time that after downloading a 3D model in STL format you have wanted to modify some detail using your favorite CAD software. Was it easy for you? In case you didn't know, most CAD software is not designed to work with 3D STL files, so just loading one of these into Fusion 360, for example, would be a hassle.
Grabcad offers most of its models in both STL and CAD software formats, such as STEP. If you are looking for files to edit yourself, Grabcad is the place for you.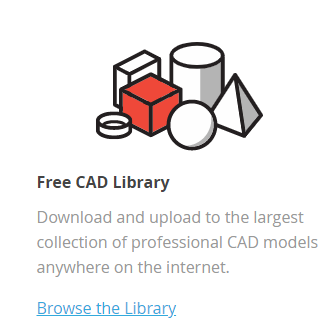 It also has its own section of tutorials and guides and also a competition section, where the community is encouraged to create different designs under a common theme.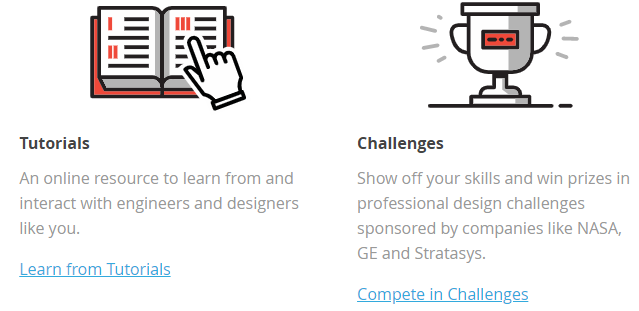 Still can't find what you're looking for?
If you haven't found the 3D model you need either in Thingiverse or in any of the alternatives we have proposed, you are in luck. In Bitfab we have the best 3D modelers who will be happy to help you design what you need with the utmost professionalism. Do not hesitate to contact us, I'm sure we can help.