It is likely that you have already come across a file in the DWG format and have not known how to open it or what it was. Well, today in Bitfab we are going to tell you what you need to know about this type of files and how you can open them in an easy and comfortable way.
What is a DWG file?
DWG is a type of file, developed by Autodesk, which is used as the native format of its flagship CAD software: AutoCAD.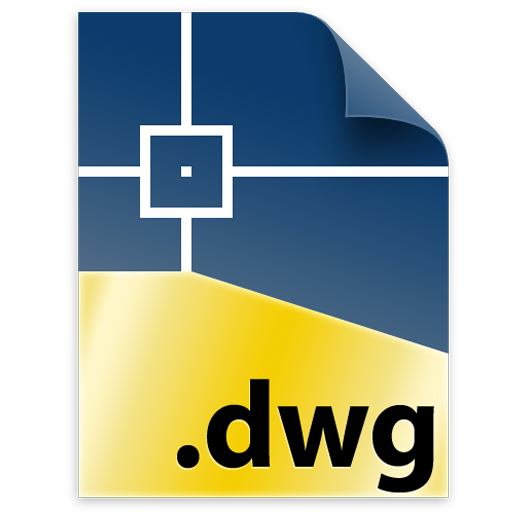 A file with the DWG extension can contain any type of data used in AutoCAD, such as
Designs
Geometrical data
Maps
Photographs
Although this format is often associated with AutoCAD, many CAD software programs actually use it, so AutoCAD has developed a technology known as TrustedDWG that can detect possible incompatibilities in a DWG file that has been created or edited outside of AutoCAD.
How to open DWG files?
Logically, you can open a DWG file using AutoCAD, since this is the software for which this format was designed. However, there are many alternatives for you to open and view these files without installing said software. This is especially important since, as we have already mentioned in some of our previous articles, AutoCAD is not exactly cheap. This is why being able to access the content of a DWG file without having to install or license AutoCAD is relevant.
There are several options, but we are going to tell you the most interesting ones.
Autodesk Viewer
This software, proprietary to Autodesk, will allow us to open, among other formats, the DWG format of AutoCAD. This program works in our browser, so there is no need to install any third party software. Some of the most relevant features of Autodesk Viewer are:
Ability to open DWG, DXF and DWF files
Ability to visualize 3D models in the most common formats
Ability to display 2D plans and diagrams in the most common formats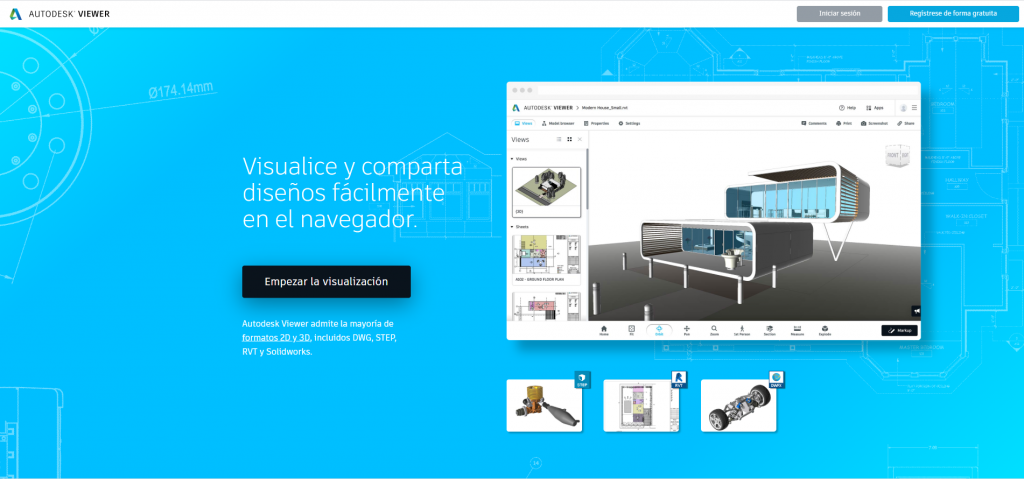 This program is quite simple and as a viewer it has everything you need. One disadvantage we have found is that it can take several minutes to load a file for viewing, which can be a pain if we want to view several files.
Once the file is loaded we can perform operations such as orbiting around it, take measurements, break the model into parts or make notes.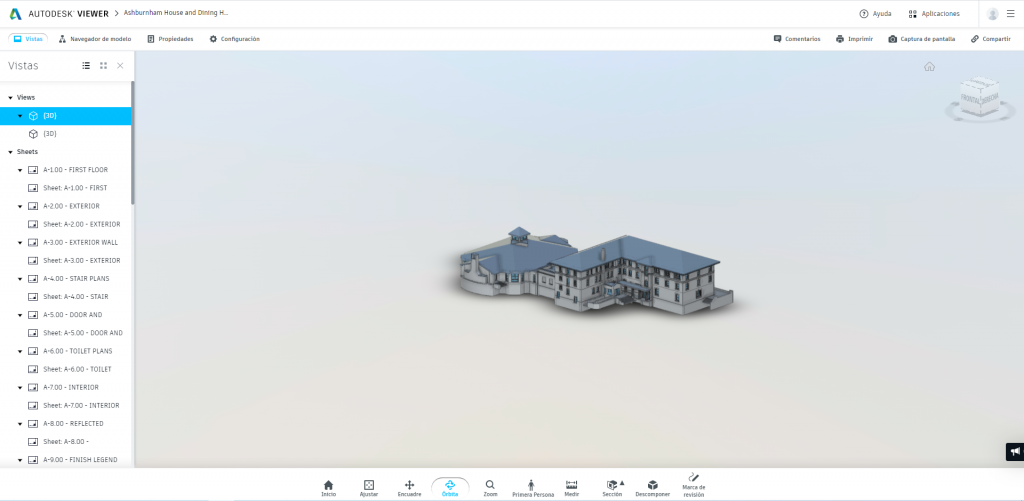 In the window on the left we can navigate between the different components of this model, being able to see both the 3D model and the different plans of the parts of the house.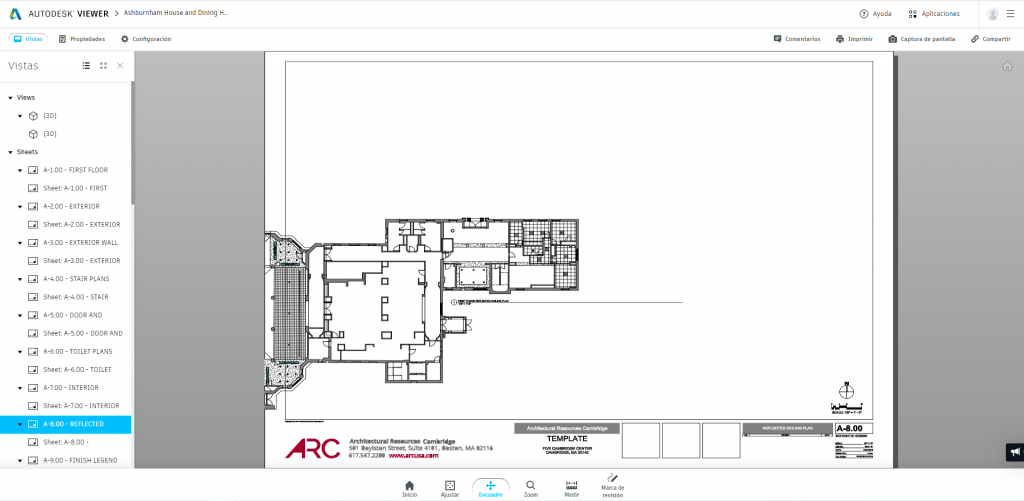 In addition, this program is available in Spanish, which can be a big plus if you don't handle English very well.
DWGTrueView
This is another program, also from Autodesk, which will allow us more freedom of action than Autodesk viewer.
With this program we will be able to do the same as with Autodesk viewer but in addition you will be able to convert between different versions of DWG and to mark the files of DWG with the seal of TruestedView.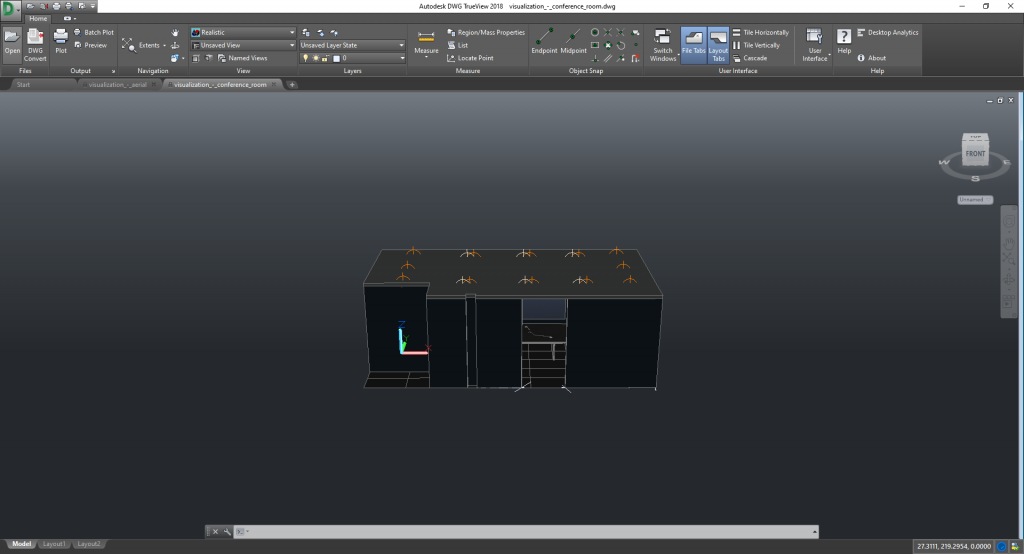 As you can see, the interface is much more complex, and it is more like a full CAD program. As in the previous case, we will be able to take measurements and make notes. In addition, we will be able to switch between different layouts for a more comfortable navigation.
One of the drawbacks is that it is only available in English, which added to its less intuitive interface can make it difficult for some people to use. Besides, it is a program that we must install in our computer, taking up about 2 GB of space. As you can imagine, it is also a heavier program and if your computer is not very powerful it may have difficulties opening some very complex DWG files with DWGTrueView.
AutoCAD Mobile App
This last tool for viewing DWG files is the AutoCAD mobile application. As its name indicates, it is an app for mobile devices, whether they are smartphones or tablets. It is available on IOS, Android and Windows.
This application, contrary to what it may seem due to its mobile approach, is one of the most complete, since it allows us to edit and mark files, and create drawings.

This program is basically a light and reduced version of AutoCAD, more than a DWF viewer, so it's quite complete and allows us many options in addition to just viewing the files.
Its interface is simple, and it looks more like the AutoCAD product line than DWGTrueView. In this case we find an interface more similar to that of the renewed Autodesk programs, such as Fusion 360.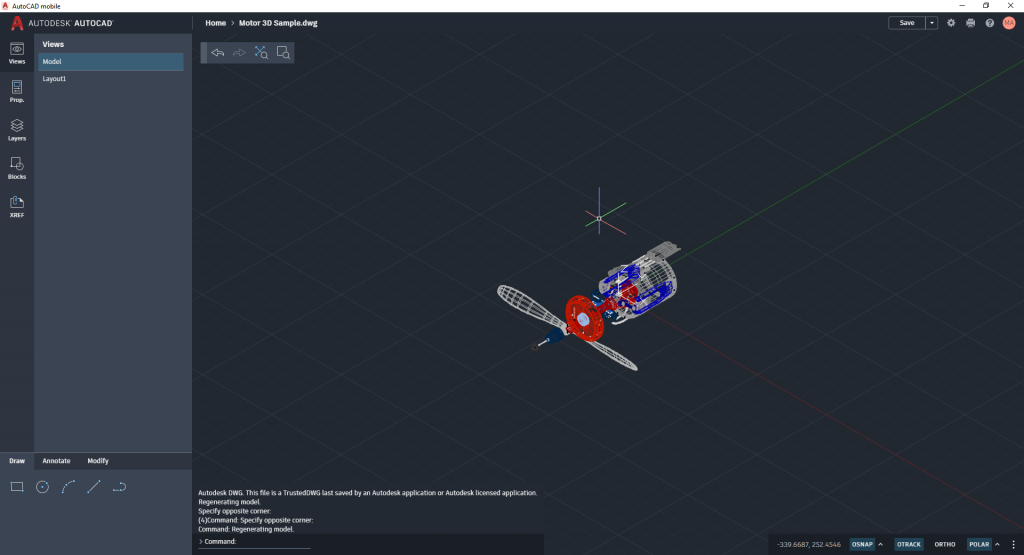 This image is from the Windows version, downloadable through the App Store.
This program is not free, although you can qualify for a free 7-day trial. It offers two versions, the basic and the ultimate, with prices of 61 and 140 euros per year respectively. If you are interested in a more in-depth article on this program, please leave us a comment, as we will be happy to help you.
A little comparative
Having talked to you about the three alternatives for viewing DWG files that we like the most, we're going to show you a short comparative so you know which alternative suits you best.
The Autodesk website itself provides a fairly complete comparison table that we show you below.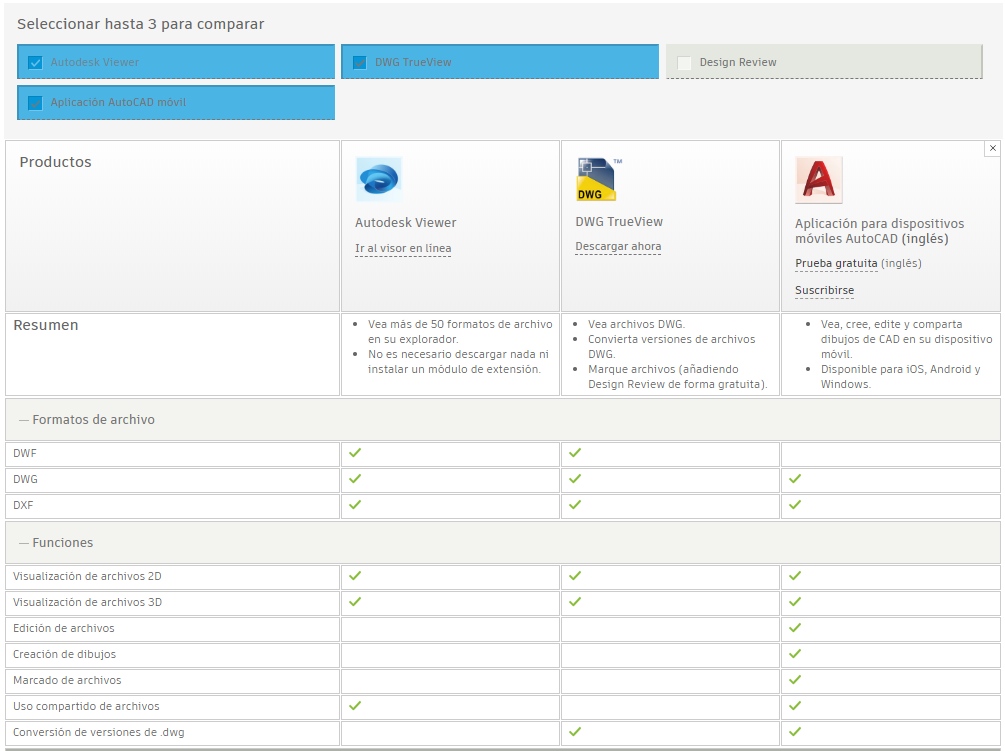 As you can see, the AutoCAD mobile app is the most complete alternative, although it is also the only one that is paid for. One of its biggest advantages is its crossover nature, as it works on both Windows and Android or IOS. It is a paid application, with a price that starts from 61 euros per year and is available in Spanish.
Autodesk Viewer is our favorite for viewing DWG files, as it is simple, intuitive, free and works in the browser. It is also available in Spanish.
Finally, DWGTrueView is a software that, in our opinion, only makes sense as an alternative to Autodesk Viewer if you want to convert DWG versions, but as a viewer it is less worthwhile due to its more complex and outdated interface.
Do you have a DWG file you want to print?
Just transfer it to STL so we can print it in 3D and send it to us with the following contact form.
We are here to help you with your 3D projects!