One of the strong features of 3D printing is being able to replicate specific objects, but this is not an easy task as we only have two alternatives: either know how to design in 3D or be able to scan 3D objects.
Many times the first option is unfeasible if you are not a born maker or do not want to get to it (or have the time), so we resort to 3D scanning. Here the second barrier arises: is it worth spending 200€, 300€ on a 3D scanner that we are only going to use once?
In Bitfab we think it's not, and that's why we have prepared a post about the applications that exist for mobile phones or tablets to scan in 3D, all free so you don't spend money unnecessarily on something that you won't practically use.
Having said this, let's begin.

Qlone: The best 3D mobile scanner out there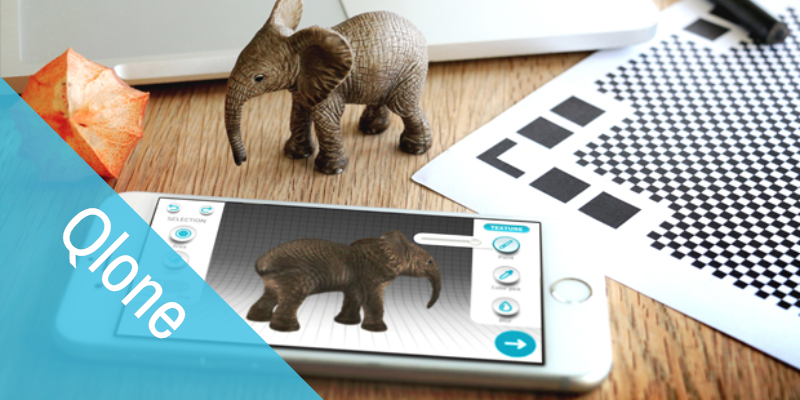 Qlone is an application for both Android (under development) and IOS which exports the 3D object directly from your mobile, and in a very powerful way.
The first step is to print a small template on a sheet of paper so that the application knows exactly how to reference all the points of your 3D object. First you position the camera and then place the object in the center of your pattern.
Through a series of algorithms, Qlone will fill a sphere of points by triangulating the object and then allowing you to export it in .obj or .stl formats. The catch is that this last point (export) is paid and although its price is not very high (between 0.5 € and 1.5 € depending on the size of the model), is something that somewhat undermines our expectations with the app.
However, the average user does not have the continual need to export or scan files, so this expense for many of them may be worthwhile. Another small handicap is that the model is designed for objects contained within its cardboard pattern, so it's not ideal for replicating architectural models (although if you print the cardboard very large, you can replicate up to a seated person). With only those elements you can set up a free home 3D scanner.
Finally, the application does not need previous knowledge in the matter: it has a step by step guide that will make scanning your 3D models a breeze and best of all, it is not limited to shapes, it also captures colors and brightness, and it's perfect if you need to make some 3D animation.
Trnio, the easiest-to-use 3D scanning app for iOS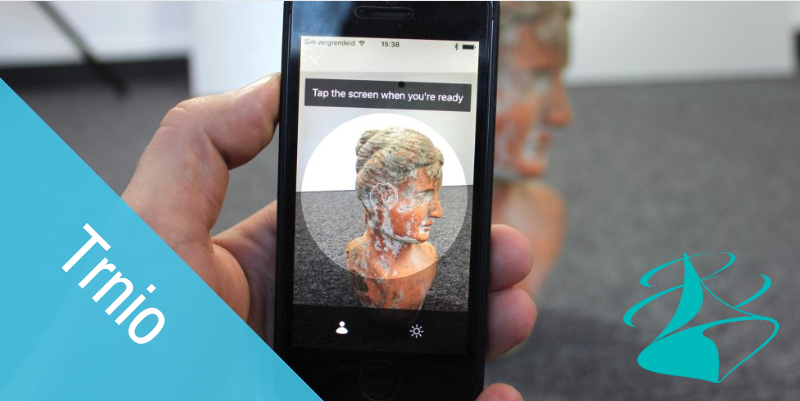 'Trnio works by joining many pictures taken around an object and all you have to do is point, rotate your mobile around the object to create the pictures and the rest is taken care of by the app.
Trnio also has a small problem: it also scans what is around the object, so before exporting your model, you have to do a slight manual cleaning of all those shapes that we didn't want to scan.
On the other hand, Trnio also has a social platform where you can create a user and share all your 3D models. There you can also see the models of other users and see how they have used the application to create their 3D objects.
Then, to export your 3D models (Trnio has several options and export formats), just go to the Sketchfab website and thanks to its service you can download and enjoy them (it also prints the surface colors of the object).
We strongly encourage you to visit their website to take a look at the models available. The 3D photo they have taken of a woman sleeping on a sofa has made our hair stand on end; we did not know if it was real or 3D scanning. It is only available for IOS.
Scann 3D, a 3D Scanning application for Android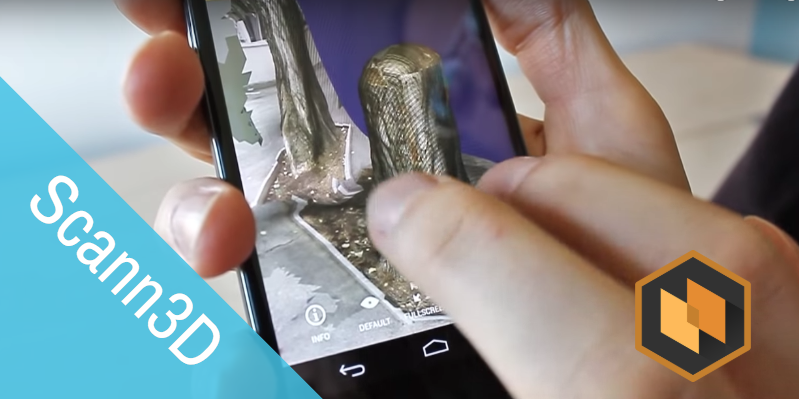 At last we come to a 3D scanning app for the Android platform, and note, as it is an app very similar to Qlone. The first thing we'll do is log in and enter our username and password.
To create our first model we will click on 'New Model' and we will take pictures around the object we want to replicate. It doesn't have to be limited to a cardboard like Qlone, it can be from a small doll to (as you'll see in the video) the trunk of a tree.
When you finish taking the photos (about 30 or so), they will be stored in your phone's internal memory waiting to be processed. Keep in mind this small handicap when using the 3D scanning app, so you won't run out of space in the phone's memory.
Once we have reviewed the images, they'll be ready to be processed and exported to formats such as .STL or .OBJ (they are the main ones, especially .STL) and send them to our 3D printer.
A final note is that the fact of not being limited to a cardboard to scan, is not always good as you risk capturing the entire environment of the object with your 3D scanning application and having to postprocess the 3D object. Downloading the model as well as Qlone has a small surcharge depending on the size of the object.
Scandy, a full-color scanning app
Scandy was born in New Orleans in 2014, and was conceived to scan 3D objects or 3D models of landscapes and then print them on Scandy's 3D service.
Unfortunately, Scandy removed its application for Android users because of the number of updates and new mobile models in which they had to ensure the correct operation of the application. The good thing: it still works in IOS.
It has several ways of operation. One of the first is 'Scandy Sphere', which allows us to make a panoramic 3D scan of our environment as if we were inside a sphere. This is useful for generating models for animations rather than for any further 3D printing.
In the future, Scandy wants to focus on 3D Scanning devices attachable to the mobile and we can ensure that it works very well. The fact of not working with Android is a salvageable handicap compared to its functionalities.
ItSeez3D, a specialized app for people scanning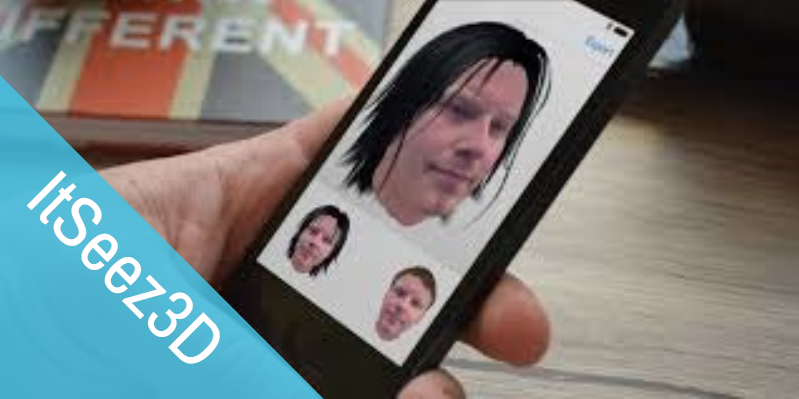 This is because the image quality of such devices is usually not the best to capture every detail. With this iPad attachment in this case, you can make a perfect and complete scan of a person. This way you can scan with your iPad.
This application doesn't need any kind of grid underneath the person, which we found strange when we saw that it didn't capture the objects that were around it (like other 3D programs).
The resolution of the output format is a little lower than in other programs, because a person has so many pixels to recognize that the processing power of any tablet or mobile was always going to fall short, and needed to be made lighter.
The app is free for normal users, what is paid for is the export of the models in formats such as .OBJ, .PLY, and .WRL. However, to make models for wedding cakes or some specific detail for a celebration, it is worth subscribing to its annual service.
How a 3D mobile or tablet scanner works. Photogrammetry
How 3D scaning works? This technology is called photogrammetry. Photogrammetry is the technique of calculating relative measurements between objects in a photo, and pass these to a 3D model. This is done by processing several photographs, and looking at the different perspectives between objects and making estimates of the relative dimensions between them.
This will create a map of points, which will join forming triangles, which will create meshes with which we can replicate our 3D objects; this technique is called triangulation.
The advantage of photogrammetry is that with only a camera or a mobile you can scan at home and have a home 3D scanner for a 3D printer and 3D models for printing.
These models generally have to be processed a posteriori because depending on the light and the quality of our objective, everything can turn out with higher or lower resolution. There are programs that deal specifically with this as the well-known Meshmixer of the company Autodesk.
What is a 3D scanner for?
3D scans can be used to replicate objects from everyday life, including people, monuments or any material being or thing from everyday life.
One of the real-life uses you can give it are:
Making figures for wedding cakes.
Replicas of people for birthday parties or details.
Replicas of damaged objects.
Space studies for engine or lace designs.
Models for architectural 3D simulations (patterns of a cathedral etc…)
For the common user it is generally used for repairing objects or creating decorative models. However, in the animation industry 3D scanning is a booming and developing technique for 3D landscape and surrounding models.
Why scan 3D objects with mobile 3D scanning programs?
I'm sure you've considered buying a 3D scanner to create your own models, but, first of all, let us advise you and tell you why you should use one of the applications we've recommended above:
It's a lot cheaper than buying a 3D scanner
From Bitfab we have calculated with the average payment price for exporting 3D models in each application that to amortize a 3D scanner with respect to the mobile apps, you would have to do more than 400 object scans in 2 years. This is generally not feasible for the average user.
Everything you need is in your pocket
You walk down the street and suddenly you see a sculpture, an object to replicate and you've left the 3D scanner in your house. What do you do? If you carry your 3D scanner in your pocket, this will never happen to you and the only way to do it is that it is integrated into your own mobile. Simple and affordable.
Scanning software is very complicated
A conventional 3D scanner usually has its own software, and this, apart from costing more money, is usually a headache generator. Since the products are focused on industrial users, they do not adapt to the average user, so finding options and clarifying them is often quite complicated.
User-adapted processing capacity
Normally to carry out a 3D scan and its subsequent processing, we need a very powerful computer, with a lot of RAM and preferably a decent graphics card. Conventional computers do not support such a rendering, not to mention mobile devices. That's why all the apps mentioned here are designed for common mobiles, without big eccentricities; just what you need.
What did you think of our ranking of the best 3D scanning applications?
First of all, we wanted to congratulate you for getting here, few do, and ask you to leave in the comment box what you thought of the article. From Bitfab we take into account our readers' opinion and we would love to know yours.
Scanning in 3D is not complicated, you just have to get to it and have the right tools. Any doubt you have, write it below without hesitation.
Now all you have to do is download your 3D scanning application and see how it works for you by trying out with any object –a pencil, a toy or even the reliefs on the façade of your nearest church. There are no limits! And if you want, you can always use our online 3D printing service to bring your designs to reality!
Once again, thank you for getting here. See you in the following post 🙂