🤔 Which are the best 3D design programs?
We have gathered the 17 best 3D design and printing programs in this superpost, based on our experience. We'll also tell you which is the best option for each project and we'll include the price and advantages of all the programs.
BONUS: At the end of the article you will also find 3D printing programs so that you can also print your projects in 3D when you design them.
❤️ Our Pick: Autodesk Fusion 360
Fusion 360 is the software we recommend to our customers at Bitfab, because it is a very complete tool for engineering and it can be tested for personal projects and used commercially at a very low price or for free (with exceptions).
Fusion 360 is an ideal tool for small to medium projects. What makes it so powerful is the large number of modules available. You can design a complete product from start to finish with Fusion 360, because in addition to design modules and support for assemblies, it has modules for finite element simulation, rendering, 2D drawing, manufacturing (CAM)…
Another very valuable point of this software is that it allows us to perform the heaviest computational tasks, such as rendering, in the cloud. This is especially interesting if our PC is not particularly powerful, since complex renderings can often take hours on computers whose processors do not have many threads.
How much is it? Fusion 360 has a variety of licenses to cover different use cases: personal, commercial, startups, educational… From free to €60 per month licenses, which compared to other professional solutions is very economical.
How can I learn Fusion? The Fusion 360 course that I like the most is the one by our is this video where you can start with a simple project for 3D printing:
🔗 Autodesk Fusion 360
💵 From free to €60 per month licenses, depending on the use (personal, commercial, startup, educational)
✅ Good for: engineering parts, product design, simulation, CAM, blueprints, renders…
FreeCAD, free CAD software
FreeCad is a free and open source program that has evolved a lot over the years. In the past it was a program "well-known" for its unfriendly user interface and its complex learning curve. With the new versions and its huge improvements, FreeCad has positioned itself as a fairly solid alternative when it comes to 3D design, especially for industrial parts and parametric design.
One of the biggest strengths of Freecad is that being open source, there are lots of modules, created by different users, that allow us to perform many different tasks. With Freecad you can read and edit lots of formats like STEP, IGES, STL, SVG, DXF, OBJ, IFC, DAE …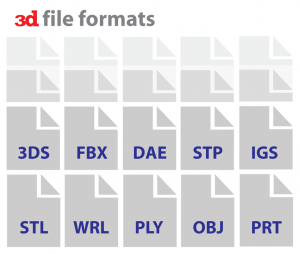 With all these formats and modules, we can do things like: simulate mechanizations, render, simulate robot movements designed in Freecad, create buildings with an architecture module, etc. There is a huge variety of modules and formats that we can use with Freecad, so it is a very flexible and powerful program.
Here is a tutorial which shows the possibilities of FreeCAD for designing engineering parts for free:
🔗 FreeCad
💵 Free
✅ With many modules that add various features. Great free parametric design program
Blender, for animation, meshes and organic modelling
Blender is currently one of the most complete programs for 3D modeling (and it's free), and allows you to do far more than most programs. Unlike Fusion 360 or Freecad, where we are practically restricted to parametric design, Blender also allows free modeling and digital sculpture. In digital sculpture more specifically, the latest versions of Blender incorporate a very powerful and complete module that rivals professional programs such as Z-brush.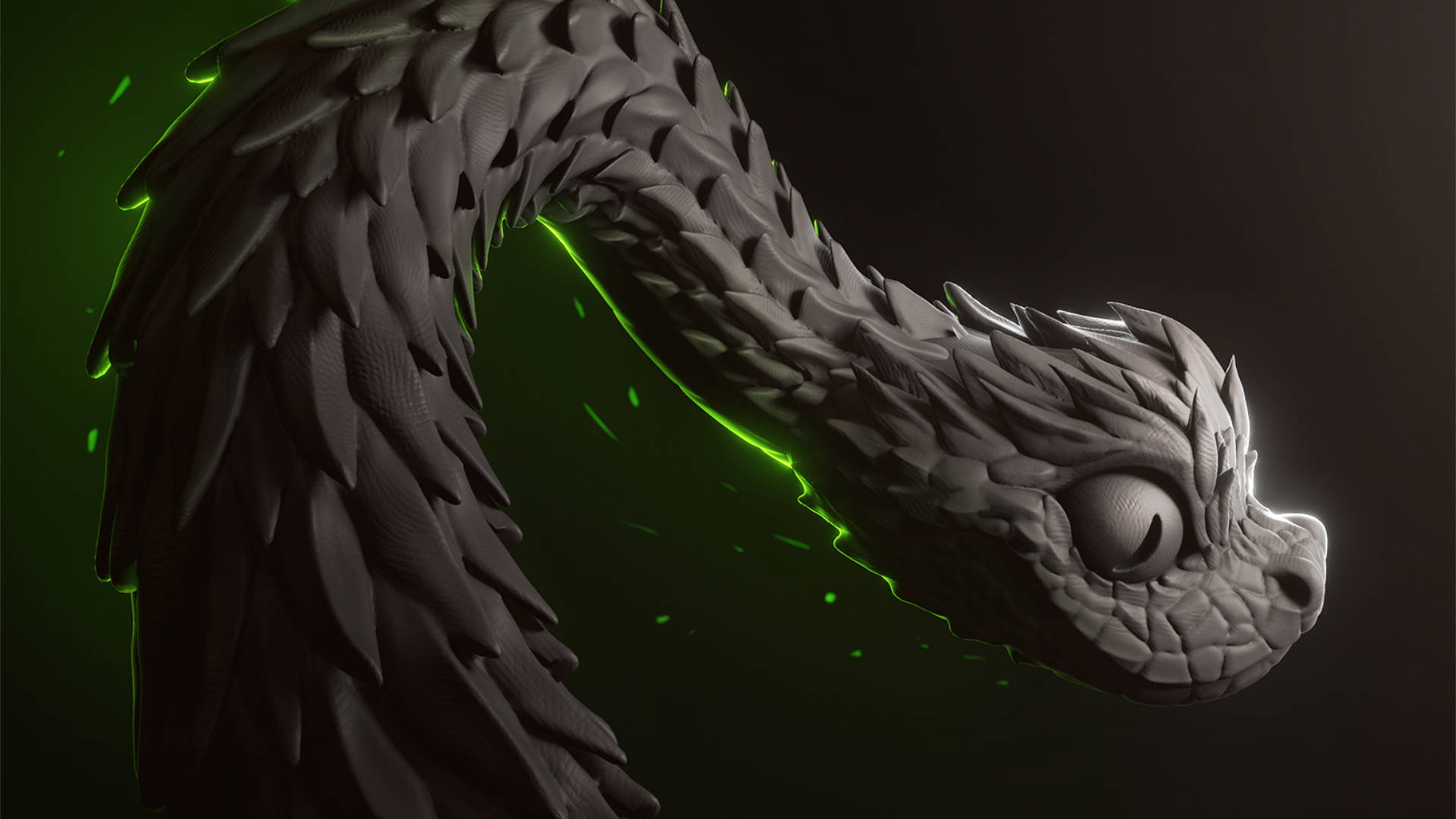 The main and most relevant feature of Blender is that it covers the entire range of techniques needed for the development of almost any 3D modeling work, from the modeling itself to animation, rendering, composition, lighting, color correction… Almost all the tasks of a project based on 3D modeling can be done entirely in Blender.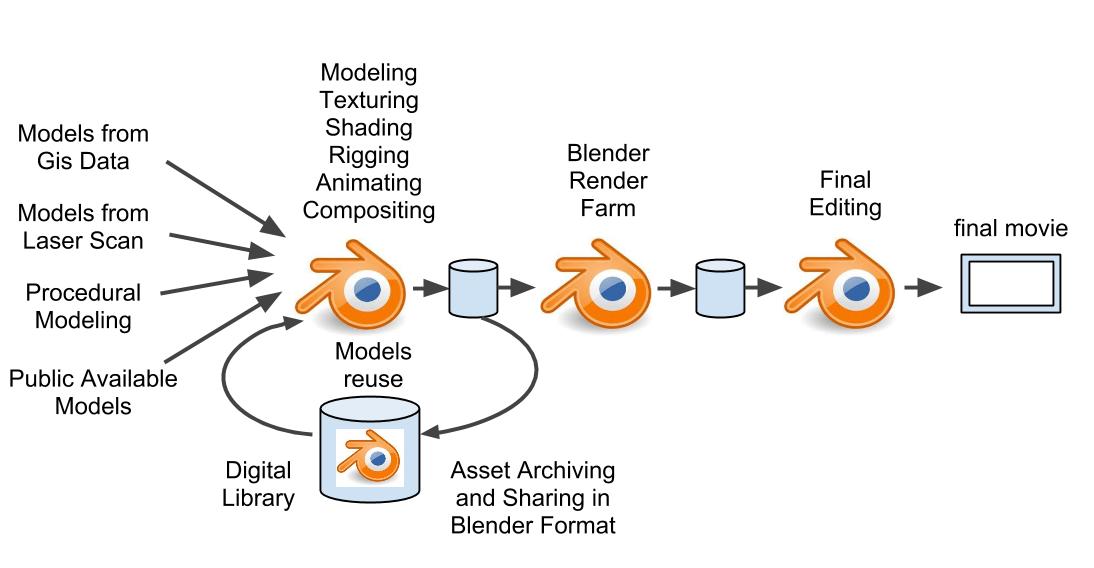 On their website they have a display where they show various projects fully carried out using Blender. We encourage you to take a look at it, as you will see that a lot of very big and complex projects can be covered using only pieces of Blender software.
Besides, Blender is a completely and absolutely free program, for private, commercial or any kind of use that you want to give it, so it is a great free alternative if we want a software that allows us to cover all the possible tasks that we have to do in a 3D project.

🔗 Blender
💵 Totally and absolutely free
✅ Very complete and extensive. Includes modules for modeling, sculpture, rendering, lighting, animation, etc. Very complete digital sculpture module
Autodesk AutoCAD, the architects' software
Autodesk is committed to releasing its software in both Mac and Windows versions, as is the case with Autocad and Fusion 360. AutoCAD is the quintessential software for architects and for many engineers because of the huge amount of libraries and tools available for them.
AutoCAD also has advanced tools for generating blueprints (whether of buildings or complex part assemblies), so it is quite useful for documenting our 3D models. On the other hand, it provides us with the necessary tools so that the models comply with the norms and standards commonly used in the sector.
🔗 Autocad
💵 €267 per month, €2124 per year or €5736 for a 3-year license
✅ Very complete design program for engineers and architects. Designed for professional clients who are looking for a complete solution that integrates all the necessary tools
Sculptris, FREE organic modeling
Sculptris is an even more cut-down version of Zbrush, free and very basic, that can serve as an introduction to digital sculpture.
This program lacks many of Zbrush's most important features, such as the dynamic generation of new polygons or the wide variety of brushes and advanced functions. Still, it is an interesting alternative if you want to start with 3D modeling oriented to digital sculpture in the simplest way possible.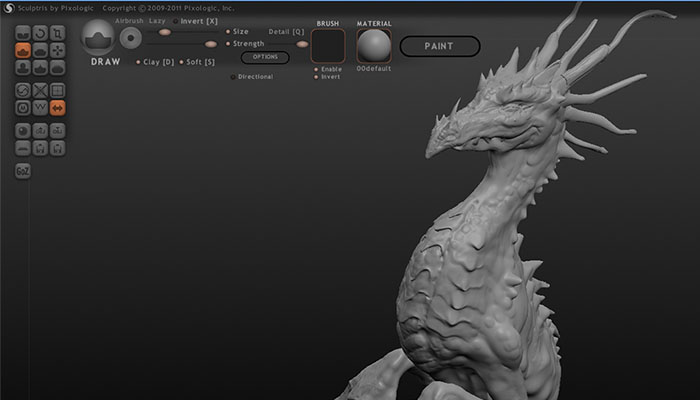 The features it offers are very limited, but they are more than enough to allow us to create a few models and get used to the dynamics and workflow of this kind of program. We can also check if we really like digital sculpture without having to learn how to use complex programs such as Blender or Zbrush.
The learning curve is very smooth, and the program, although basic, gives us all its modeling options from the beginning and a small digital painting module to add color and texture.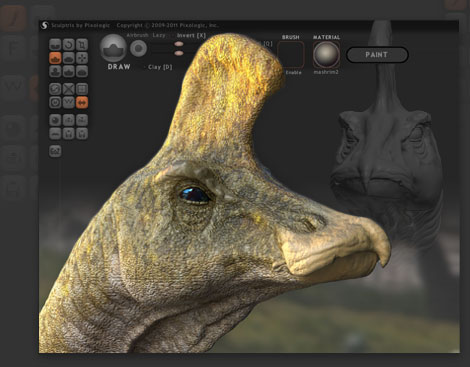 On a personal level, we have used quite a lot of Sculptris as well as Zbrush and Blender for digital sculpture. Sculptris is without a doubt the easiest option of all, as both Blender and Zbrush can be a bit overwhelming at first glance if we are not familiar with this type of program. Our recommendation is that if you don't know where to start in digital sculpture, try Sculptris, as it won't scare you with a lot of options and complex controls.
Once you decide that you want to continue in this world, you will probably want to make the jump to something more powerful, like the Blender sculpture module or Zbrush/Zbrush core.
🔗 Sculptris
💵 Free
✅ Very simple and accessible. Perfect as an introduction to digital sculpture
Zbrush, Professional Digital Modeling
Zbrush is a very complete digital sculpture software targeted to a professional audience. It is one of the most widely used digital sculpture programs, and the one we consider most complete.
Zbrush aims to be the single solution that brings together all the tools for a digital artist to make their creations entirely using Zbrush, so it has a huge and very varied range of options and modules, all focused on digital sculpture.

As a sculpture software, it has many features focused on this purpose, which make Zbrush the choice of many artists, as it makes the work much easier.
One of the most interesting features of Zbrush is the dynamic creation of geometry. This means that Zbrush uses a proprietary algorithm that decides to add or remove triangles to the mesh that forms our model dynamically, so that we don't have to worry about this and can focus only on sculpting. In this way Zbrush seeks to make the user forget that he is using a digital program and feel as similar as possible to the traditional sculpting.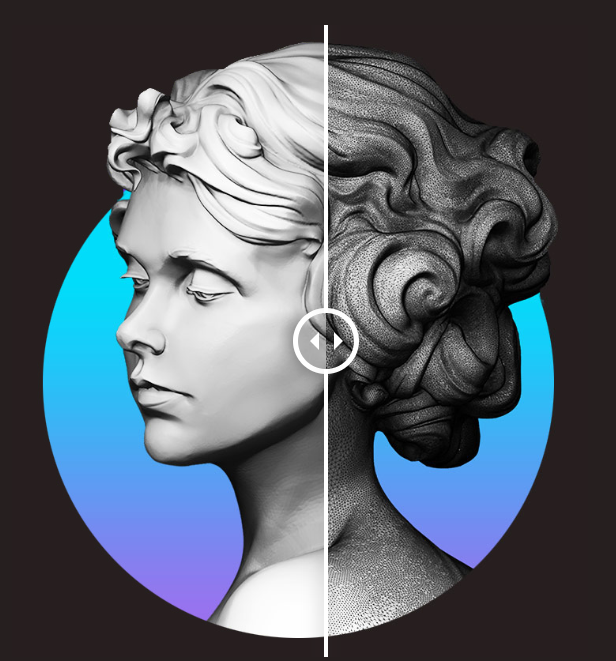 In addition, Zbrush has a complete module for painting models through what is known as an Atlas of color or texture. In this way the model in question is "stretched" until it is flat, and colours or textures can be applied very easily and precisely.
Other interesting features are the copy brush, which allows us to clone areas of our model, or the history recovery function to manage our versions.
As for the pricing strategy, Zbrush has two packages: Zbrush and Zbrush core
Zbrush is the complete program, with all its features and three payment models: $39.95 per month, $179.95 per semester or the lifetime license for $895. As you can see this is a very expensive program, designed for professionals, so it is not an affordable billing model.

The alternative is Zbrush core, which includes most of Zbrush's features but is priced much lower at $9.95 per month or $179.95 for a lifetime license. The biggest difference is the maximum number of polygons allowed and the number of brushes available. Here you can see the complete list of differences.
🔗 Zbrush
💵 $39.95 per month for the full version and $9.95 per month for the Core version.
✅ Extremely complete for digital sculpture. The reduced or Core version is still very complete
Rhinoceros for complex geometries
Rhinoceros is a software that, although not as popular as others we have talked about in this list, is still very interesting.
It is a program that promises to be able to create more complex geometries than its competitors, thanks to the handling of a certain type of geometry known as NURBS. Simply put, NURBS geometry is a three-dimensional representation of mathematical curves that is expected to be more resource and memory efficient, as well as more accurate and universal.
This means that Rhinoceros does not describe a mesh of points organized into polygons, but rather describes the more complex curves, which are intended to be a more realistic approximation of the real model with fewer resources consumed.
Rhinoceros is used to create very diverse models, from jewelry to engineering, as this type of representation of 3D models is very versatile.
Like many of the other programs we have shown you, Rhinoceros allows you to render and animate using complementary programs: Flamingo nXt 5, Brazil, Penguin 2 and Bongo 2, which are sold separately.
🔗 Rhinoceros
💵 €995 Rhinoceros (€195 for students) and €1695 Rhino 6/Flamingo/Penguin/Bongo Package (€495 for students).
✅ Represents the models using an approach that promises to be more efficient and accurate
🍏 3D design software for Mac
Please note that not all 3D design programs are available for Mac. The most popular professional CAD programs, such as Solidworks, Inventor (Inventor can be installed with a virtual machine on a Mac) and CATIA are not available for Mac. To replace all of them, we recommend Fusion 360, which is much cheaper, very powerful, and suitable for replacing them in small projects and for medium-sized companies.
Other modeling programs that cannot be used on an Apple Mac are 3DS Max, DesignSpark.
☁️ 3D Design Online Software
Another way to design from your Mac is to use design programs that provide an online interface, accessible from any browser. This is very useful if you work on different devices or computers, and it also makes it easier to share your designs.
SketchUp
SketchUp is a simple 3D design software for beginners and is widely used in 3D printing. A few years ago it was a downloadable program, but now it has become an online 3D design program and can be used from any platform and from any computer with an internet connection.
One of its biggest benefits, apart from the fact that it is a very intuitive program to learn, is that it has a large library of designs ready to be imported into your designs. For interior design and architecture this is very useful, as it allows you to load furniture and other objects directly into your 3D model.
🔗 SketchUp
💵 Free for individuals, educators, small businesses. Everyone else from €25/month.
✅ Good for: beginners (intuitive and easy to learn), architectural design.
Onshape, online collaboration and CAD design
Onshape is a full CAD program that works entirely online. Its goal is to speed up production and make product design faster and more efficient. It is a software totally oriented to the professional sector, seeking to be a complete solution to create, modify, manage and validate all types of CAD projects.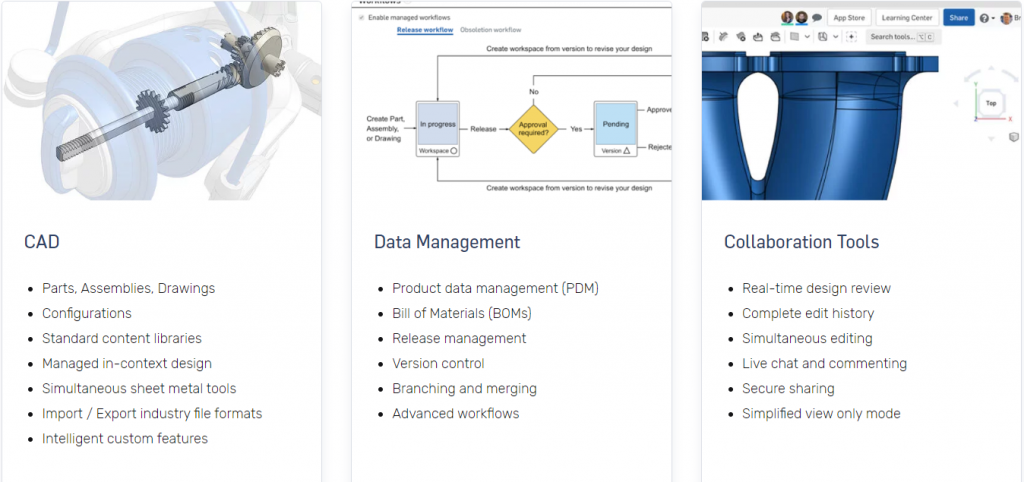 As a CAD program it has all the features of traditional programs such as the ability to create different parts and assemblies, libraries of standardized material (screws, nuts, springs, etc.) and the typical features that we would expect from a CAD software in use.
To speed up production, Onshape bets on an environment that facilitates collaboration between different users. To this end, it incorporates many tools more typical of code management and development platforms, such as Github. Onshape provides an easy way to manage the versions of our project, create new development branches or even advance a project in two parallel branches at the same time. It also allows editing the same project by several users simultaneously, with a real-time chat.
On the other hand, it incorporates resource management tools, such as a platform that helps us organize the BOM (Bill of Materials).
🔗 Onshape
💵 Free for makers and students, but projects are kept in public repositories. 1500$ for non-professional users and 2100$ for those with small or medium enterprises. Special prices are available for large companies
✅ Fully online, so no specific hardware is required. Added features to manage and administer all the work done on the platform.
TinkerCAD, the best one for educators, children and beginners
Tinkercad is one of the most widely used 3D modeling programs in the world, and one of the favorites for almost everyone to start with. It is a primitive based modelling program, where models are generated by adding basic or "primitive" parts such as cubes, cylinders or more complex figures, and combining them in various ways.
It may seem too simple a program to produce complex models, but it really does have its strengths, and you can do a lot with it if we're imaginative.
For the youngest in the house it is a very intuitive and easy to use software, and it is already used in many schools and colleges as a first approach to 3D modelling due to its ease of use and the fact that it can be used on any computer, as it works completely online.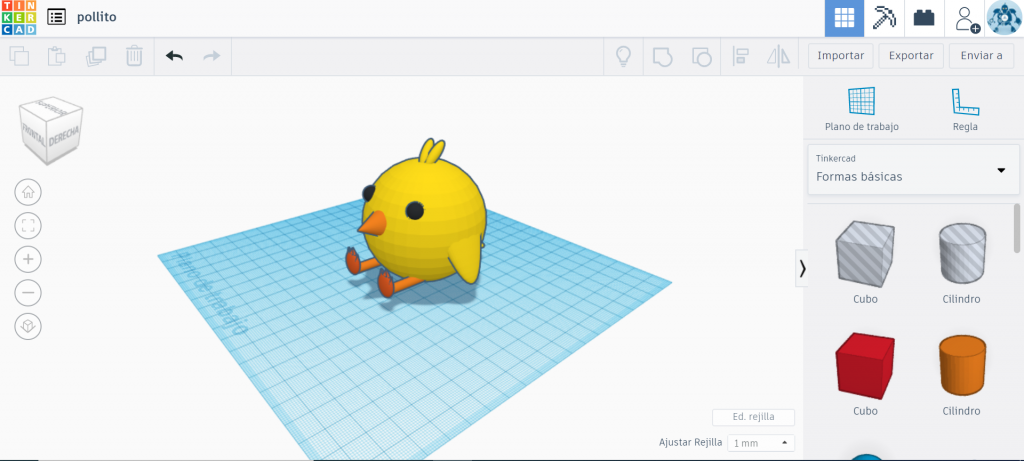 In addition, Tinkercad has many small extra features, such as the possibility of generating 3D models from simple drawings or the possibility of creating a Lego style model.
🔗 Tinkercad
💵 Free
✅ Very simple, perfect for beginners in 3D modelling. Many useful and fun tools such as the ability to create models 'Lego style' or from drawings.
🎁 BONUS: 3D printing software
Meshmixer, the ultimate toolbox for modifying STLs
Meshmixer is the best friend of all of us who are involved in 3D design for 3D printing. It is a very powerful mesh editing program, which allows us to edit, repair, correct and, in general, fix 3D models that would be totally impossible to print otherwise.
It is quite complex software, and it can be a bit scary at first, but it is certainly a tool worth knowing to deal with those complicated 3D models we find in Thingiverse. Some of the things it allows us to do are:
Correct errors in the mesh, such as truncated polygons or other geometric errors
Remove areas of zero volume or very small volume, which are very common in models extracted from video games and which could never be printed
Increase the thickness of certain parts to a minimum printable thickness
Basic sculpture to correct any deformity in the model
Placement of custom supports
Mechanical and stability analysis
🔗 Meshmixer
💵 Free
✅ Very complete, with many tools for analysis and repair of 3D models
Meshlab, repair STLs with automatic tools
Meshlab is a program similar to Meshmixer but with its own particularities. It is also a software for editing, analysis and repair of 3D models, very useful to fix models that we could never print directly.
Meshlab is very focused on the treatment of models coming from 3D scanning, so it has many tools thought for this purpose. Most of Meshlab tools are filters and automatic algorithms to analyze and repair the meshes coming from the raw scans.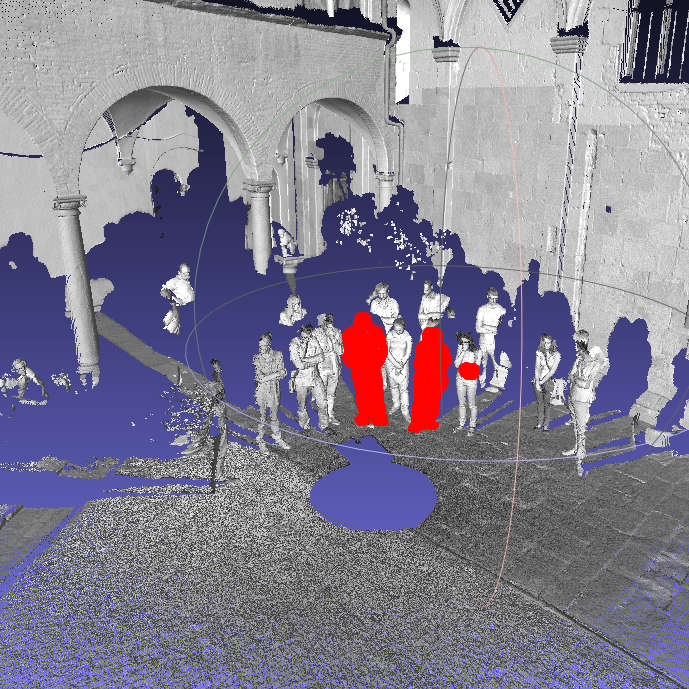 🔗 Meshlab
💵 Free
✅ Especially useful for fixing models from 3D scanning
🎁 BONUS: Lamination Software
Lamination software allows you to generate the GCODE files that 3D printers use to manufacture the parts. Unlike CAD software, in the case of laminating software, developers have cared about having Mac versions from day one and you will have no problem finding the Apple version.
Since the focus of this article is on programs to design and modify parts, not to laminate, we will only briefly mention the programs that allow you to laminate objects on a Mac.
PrusaSlicer, advanced features for free!
If you are going to use a laminator, you must use Prusa Slicer (formerly known as Slic3r Prusa Edition) before deciding on any one. This is the edition that Prusa Research does of Slic3r for its own machines (although it is still compatible with any printer).
With a team of 8 people dedicated exclusively to its development, Prusa Slicer releases new versions and features of its laminator every few weeks.
Prusa Slicer is the laminator that we use for customer parts in Bitfab, because it is the one that receives more updates and every month has new tools. It allows a very precise control of the lamination, advanced functions and it is free software, so it is perfect for an online 3D printing service like ours.
🔗 Web of Slic3r Prusa Edition
💵 Free
Cure, the most used by beginners
Cura is the most popular 3D printing software. A very complete and stable program for laminating parts, recommended for users of all levels. The latest editions contain access to all printing parameters (so many that it is sometimes confusing) and experimental functions such as last layer ironing.
🔗 Cura website
💵 Free
Slic3r
Slic3r is one of the most historic laminators together with Cura. Slic3r is a bit more difficult to use than Cura but allows a great control of the printing parameters and gives very good results once correctly configured.
🔗 Slic3r website
💵 Free
Simplify3D
Simplify 3D, unlike the other options we have talked about, is a paid laminator. It is famous for the support control and the possibility to change the printing parameters within the same piece or printing job. In our opinion it is better to start with free software and only switch to Simplify3D when you have fully mastered the laminating process. Contrary to what you may think when you are starting out, you can achieve perfect results with any laminator, free or paid. Think about buying Simplify when you've already squeezed the maximum out of another program and only when you're going to use its advanced options.
💵 149$
🔗 Simplify3D website
🎁 BONUS: 3D printing firmware
Do you know what firmware is? It's the software that's at the heart of your printer, on the plate that's attached to the machine. It's the code that controls your 3-D printer.
If you want to know this element that is not visible to most users and modify it, here is where you can start:
Marlin, the firmware that's probably in your printer
It is the most popular firmware and the one installed in almost all 3D printers. It is open source, so almost all manufacturers customize it to their liking to create particular features to fit the machines they make and sell.
You can download and install it yourself on almost any printer you have so you'll always be up to date with all the latest versions of Marlin.
The heart of Marlin is the famous Configuration.h file, where you define how your printer is configured and what firmware features you want to use. Modifying the configuration file is something that only the most advanced users usually do, here you have a tutorial on how to do it:
Other 3D printing firmware
There are other firmwares in more marginal 3D printers, used in very particular machines. These firmwares, such as Sailfish or klipper, are in disuse except in very specific cases, so we recommend that you use Marlin on your printer, as it is the firmware with the largest community behind it.
👋 This is not a goodbye, it's a see you later
I hope that with this article we were able to show you that at Bitfab we work every week to publish the best possible content on 3D manufacturing and printing.
If you liked our work you can always leave us a comment, and if you have a project in mind that requires 3D design or manufacturing, send us a message and we will give you a quote right away!