Large format 3D printing has made it possible to print decorative elements of considerable size. One of these are plant pots. You can print them in any size you want to fit your plant, with the desired aesthetics to suit your home. You can even design them yourself to adapt to any need you have!
Today, in Bitfab, we tell you everything you need to know about 3D printed plant pots.
Why 3D print your plant pots?
There are many reasons why 3D printing is an ideal manufacturing technology for your pots. We are going to tell you the ones we consider most relevant: Looks, customization and cost.
Looks of 3D printed pots
If you have ever wanted to buy an interesting pot for your plants, you must have noticed that they are all the same. A quick search on Amazon will show you that, indeed, there are few traditional retail sites that allow you to choose a pot that suits your tastes and needs.

On the contrary, 3D printed planters can be exactly as you want them to be: big, small, discreet, eye-catching, classic looking, modern looking….
We have done a little search on different 3D model download sites and, without much effort, we have found a lot of different pots that you can print yourself. You can click on the images and a new tab will open with the model.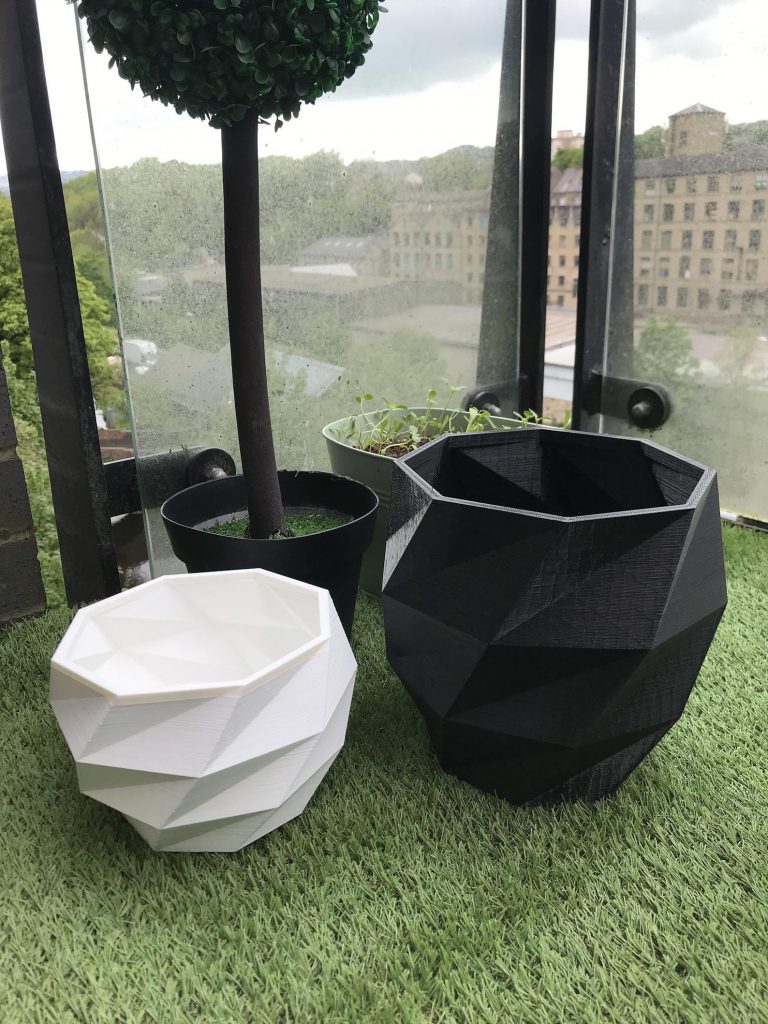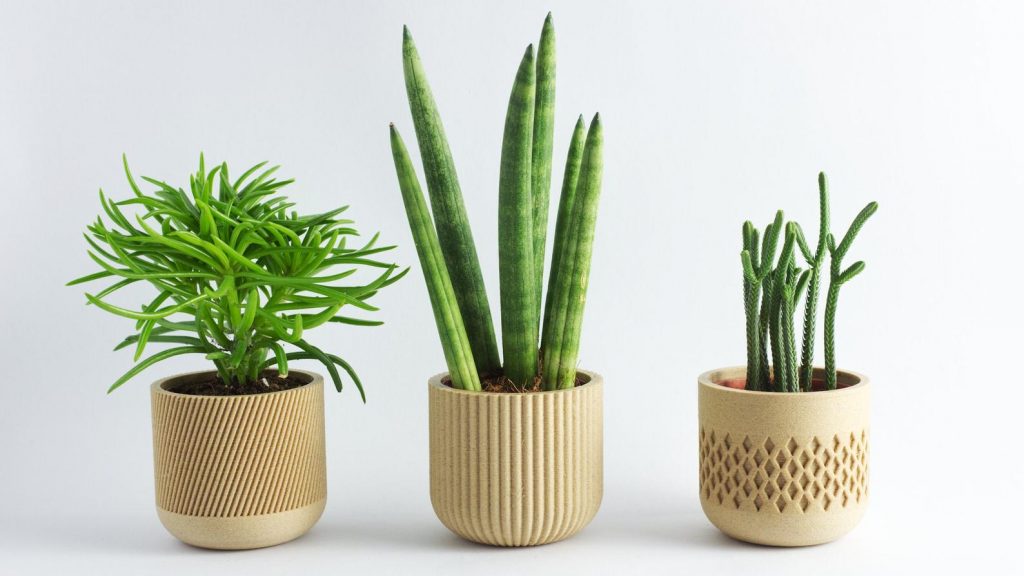 As you can see, you have a lot of options: pots with Greek sculpture style, with polygonal and geometric look, modular and stackable… The truth is that you can choose from a lot of options.
Another additional advantage is that, for any model, it is very easy to change the size so that the pot fits exactly to any type of plant. Therefore, we can adapt any of these models to very small or very large plants, but this is something we will talk about in the next section.
Customization of 3D printed pots
Sure, you can find a planter that fits perfectly with the style you're looking for, but do you want to customize it even more? No problem!
Digital manufacturing allows you to customize with very little effort a product that would otherwise be very "generic". Yes, it's true, you've already chosen a planter that looks pretty much according to your taste; but its size, color, geometry and many other features can still be customized to adapt it to the millimeter to what you're looking for.
Using 3D builder, a program we have already told you about, it is very easy to resize or re-mesh the file to reduce the number of polygons and give, for example, a more low-poly look to your pot.
In this very program it is very easy to add text, logos, or any image you want as a bas-relief to your planter. We have stamped our brand, but you can put anything using the features that 3D Builder comes with. The truth is that it is a very comprehensive program that will allow you to take your 3D models to the next level without having to use complex CAD programs.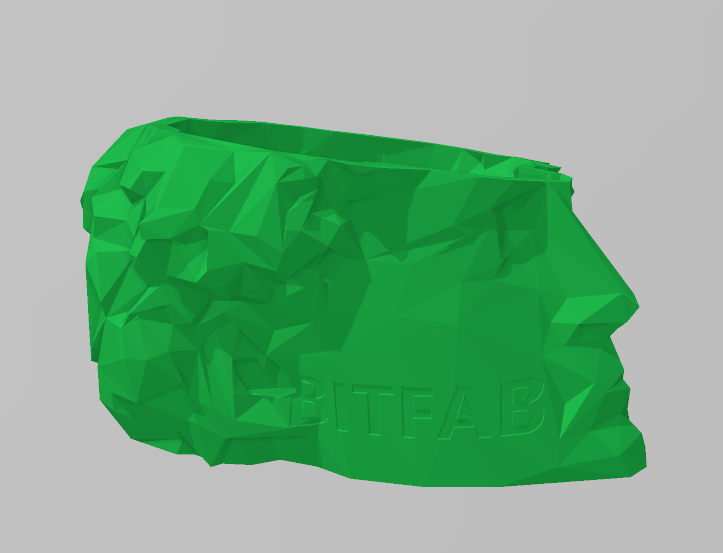 As a bonus, it is very easy to turn any 3D model into a plant pot using 3D Builder. We, based on the recent release of the new season of the popular show "The Mandalorian", have converted an ed Baby Yoda model into a flower pot. You can find this model for free at myminifactory. The process in 3D Builder is very simple:
We load the model
We cut the part that we want. In our case it is the head
We scale it to the size we want
We hollow it out to turn it into a flower pot. The thickness will vary depending on what you want, but a thickness between 2 and 5 mm is usually enough
We cut the upper part to "open" the pot and it's ready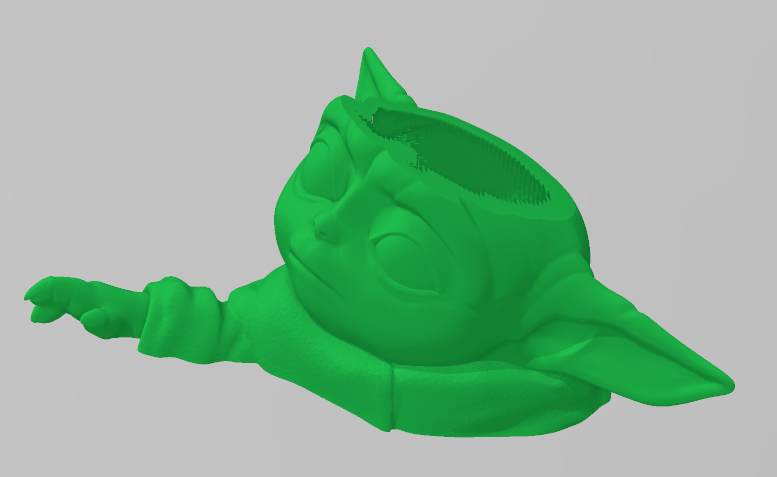 If you want us to do an article going into more detail about what things you can do with 3D Builder or how to make custom pots, let us know in the comments.
When it comes to printing we can get creative too. There are lots of filaments (more and more every day) with incredible effects: metallic colors, with glitter, glossy, matte, that change color with temperature, with wood particles, carbon fiber, with neon colors, pastel, silk effect… The list of materials is certainly extensive and you have a lot to choose from. Here are some of the colors that we have found particularly attractive:
Customization, as you can see, is one of the strongest points of 3D printing pots, as you can basically do whatever you want.
Also, with very little effort, you can use free and simple programs like 3D Builder to add your branding to the models and thus customize each pot to make it unique.
3D printed plant pots at Bitfab
At Bitfab we are passionate about 3D printing: if it can be printed, we have printed it. To write this article we have experimented a lot, both converting designs from thingiverse or myminifactory into pots and designing our own pots. We are also experts in manufacturing, so we like to experiment a lot with different parameter settings in order to print the best pots in the fastest way and at the lowest cost.
You could say that we are experts in 3D printed pots, so if you have any questions, want to make your own pots or have a business where you sell pots and want to innovate with an original and customized product, just contact us, we will be happy to talk to you!