👓 Printing glasses in 3D is a trend that is gaining popularity and that many are joining.
It's a fresh, simple and advantageous proposal that has emerged to meet the needs of many people who demand a higher level of customization of this product.
After all, eyeglasses must be made with a variety of details in mind. With the customization possibilities offered by 3D printing and the variety of shapes that can be achieved, glasses are one of the items that can most take advantage of this technology.
So, if you've had doubts about them up until now, here's why it's your best alternative.
Companies that manufacture their glasses with 3D printing
Many companies and entrepreneurs have been motivated to develop 3D printing projects of glasses and the results can be described as fun and high quality. Here are some of the most interesting initiatives.
The most curious thing you'll think when you see them is that they're no different from models made with other technologies!
Personalise your glasses online with You Eyewear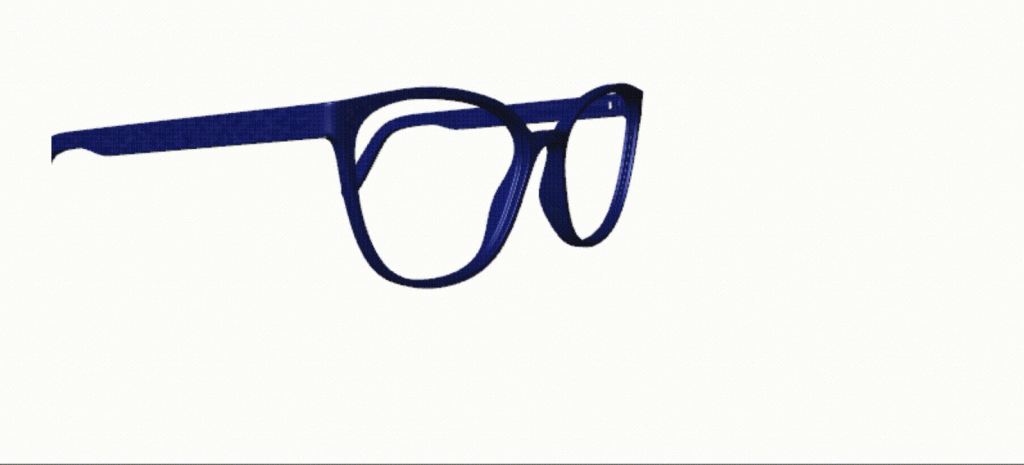 This is the most interesting project we have found on 3D glasses.
Your Eyewear is a brand of glasses that allows you to customise your glasses 100%, preview them in 3D and then print them so they can be delivered to your optician and have the lenses fitted. You can change the shape, colors, size (down to the last millimeter) of your glasses, and even put your own text engraved on the frame.
Try some glasses online at Virtual Try On
We leave you the video because it is the project that most caught our attention: it allows you to try the glasses over a photo or 3D scanner as well as customize and download them.
Unfortunately, in their website Virtual Try On it seems that right now it is not possible to register and access the configurator. It's a shame because we would have loved to try it.
Monoqool's personalized and unique glasses

Monoqool manufactures these 3D printed glasses in a unique and personalized way for each of its customers. The glasses are printed on nylon and metal in SLS printers.
One of the differentiating points of their technology is that the freedom of 3D printed shapes allows them to obtain special and ultra-light designs for these glasses of Danish design and manufacture.
The most daring glasses of Octobre71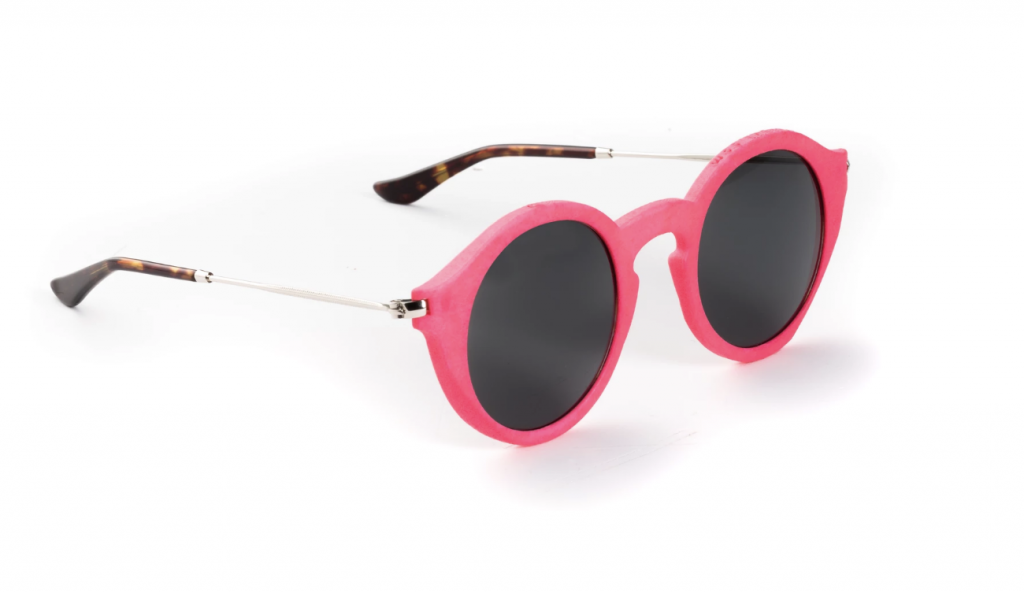 Estas gafas hechas en Francia por Octobre71 tienen un diseño, formas y colores mucho más atrevidas y, como pone en la web del fabricante, también están fabricadas con un marco impreso en nylon con tecnología SLS.
Gafas cortadas con láser de Epilog
Finally, a proposal for lasercut glasses. This is an Epilog video demonstration of the number of different materials and techniques that can be used with laser cutting to make 3D glasses.
I personally loved it; there are many possibilities of cutting, marking, bicolor materials, different woods… and the final results, once you add the hinges, are spectacular.
3D glasses models for printing
Are you looking forward to printing your own glasses? We have also collected here some 3D glasses to download and calm your maker impulses.
Rayban Wayfarer Model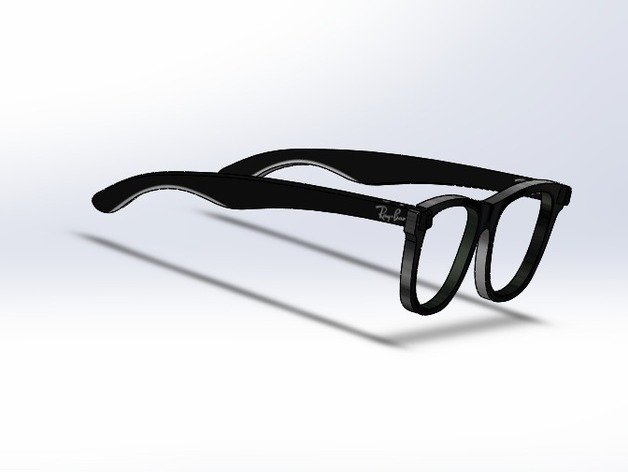 My favorite classic glasses model. It never goes out of style and now you can print it and download it to make tests, prototypes and your own modifications.
One Piece 3D Printed Glasses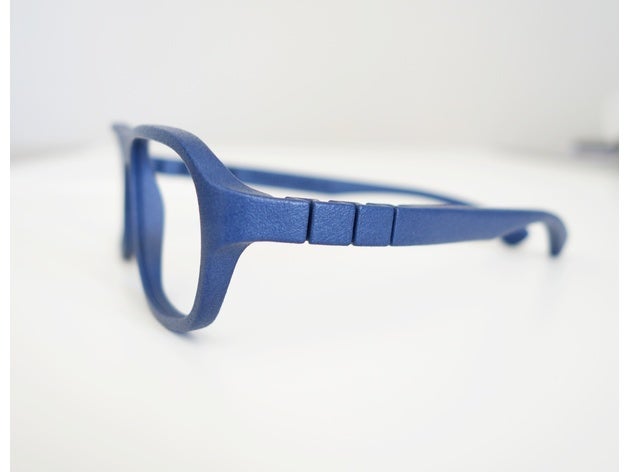 A very curious model, which instead of having several pieces has a flexible hinge that joins the sides with the handle and allows you to print them all at once.
They belong to the Virtual Try On project we talked about, and you can download them from Thingiverse.
Simple 3D Glasses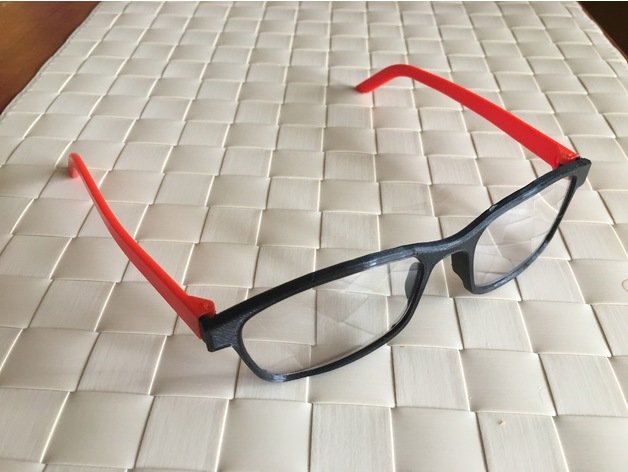 A very simple pair of glasses that are easy to print and ready for any FDM printer.
Why make glasses with 3D printing?
Eyeglass design is a science in which various aspects must be taken into account. These include those directly related to the person's sense of sight, those that ensure that they meet their purpose and also the added details that contribute to user satisfaction.
Taken together, these elements make it necessary for glasses to be a unique product, because the facial and visual characteristics as well as the tastes of each person are different. However, traditional eyewear manufacturing processes do not achieve the level of precision and personalization that this requires.
It is at this point that the 3D printing of glasses is a miraculous solution. With this technology, the client can anticipate its development and provide the data that the designer needs to know to manufacture glasses that perfectly adapt to their physical characteristics.
You're probably thinking that this level of exclusivity must be very expensive, but let us tell you that you're wrong. In fact, it's just the opposite. One of the most interesting advantages of 3D printing is that it allows significant savings in production costs. So, not only will you have custom-made glasses, but they will be much cheaper than those offered by opticians.
Want to print your 3D glasses?
As you've just seen, there are many other models of reading glasses, sunglasses or glasses made with crazy details to add a fun touch to your appearance.
Now do you understand why 3D-printed glasses are in vogue? With this technology you not only have a product tailored to your physical characteristics, but also to your aesthetic preferences.
If you want to make your own glasses with 3D technology you can count on our help to make the prototypes or production runs, just leave us a message!